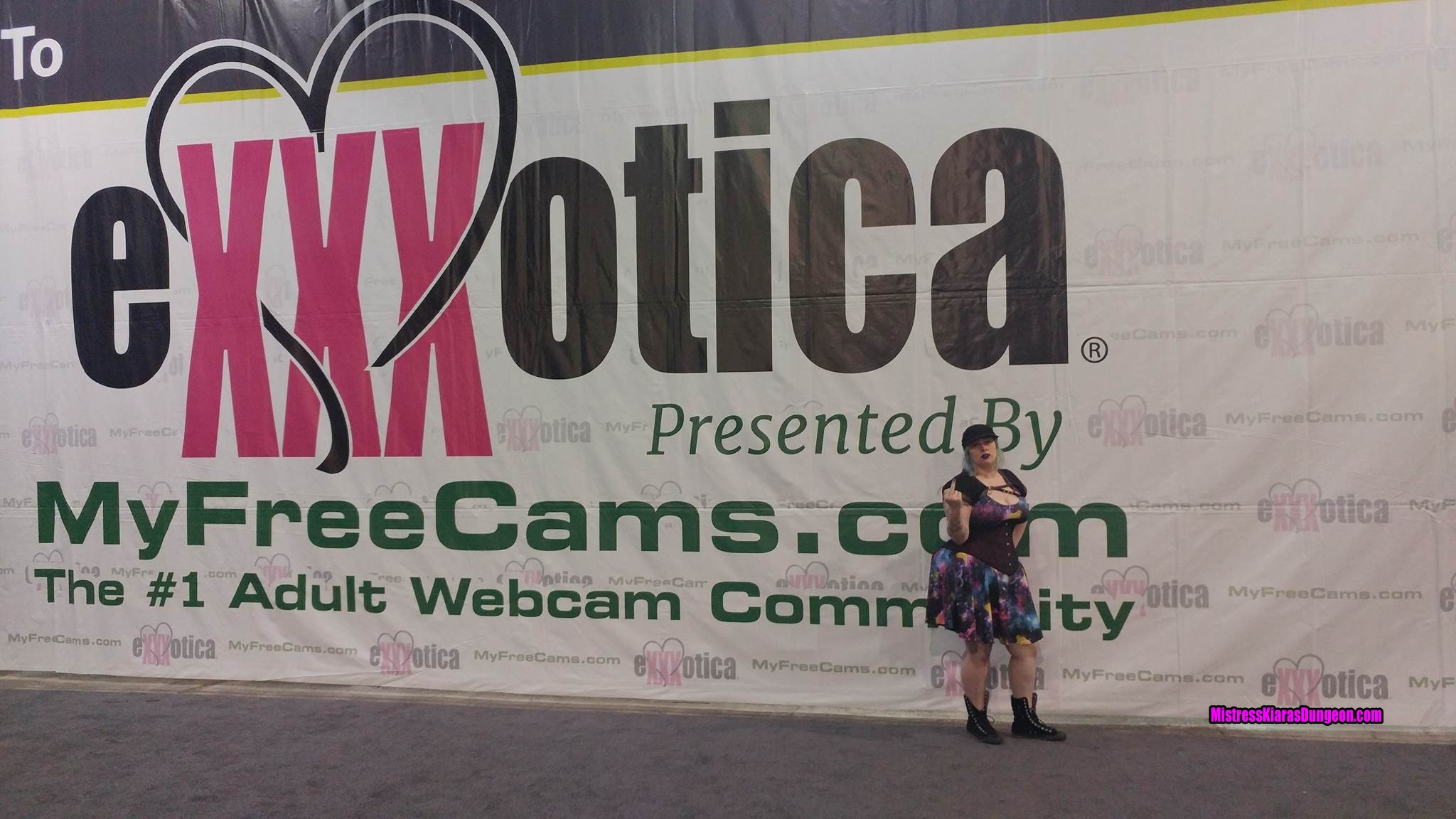 Yes. I know. Exxxotica Expo was over 2 weeks ago. But guess what? Some of you fuckers are LITERALLY disgusting pigs, and one of you got Me sick! I've been resting up and trying to get well enough to post. Lucky you, I'm finally better, so sit back, get out your cocks and wallets, and enjoy ;3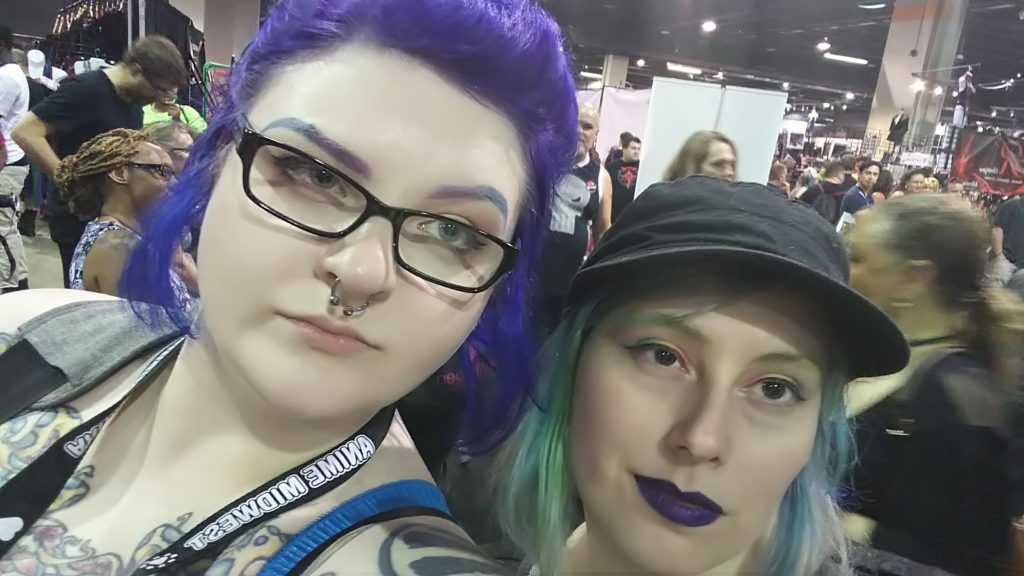 I went with Dom Mal, My best friend and sexy partner-in-crime, and we had a blast! We even did a couple sessions with our local Chicago boys and returned home with our pockets bursting with your cash – LOL~!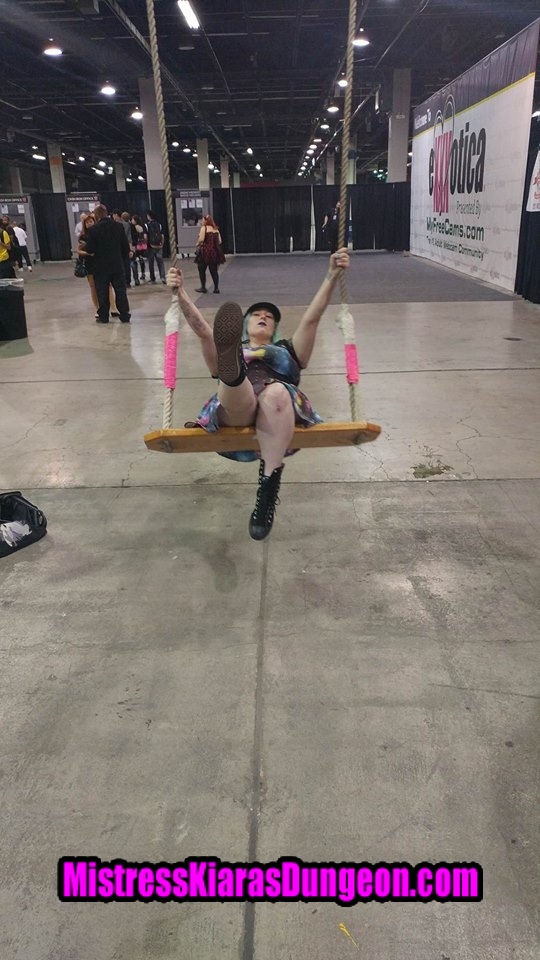 I love this pic! As you entered the expo, there was this adorable 'sex swing' and the girl in charge totally let Me play on it. It was super fun, and you get a great view of My sneakers lol. And for those of you losers who would whine about them – fuck you! I was walking around ALL WEEKEND! There's NO WAY I was going to wear 'sexy shoes' just for your lame asses!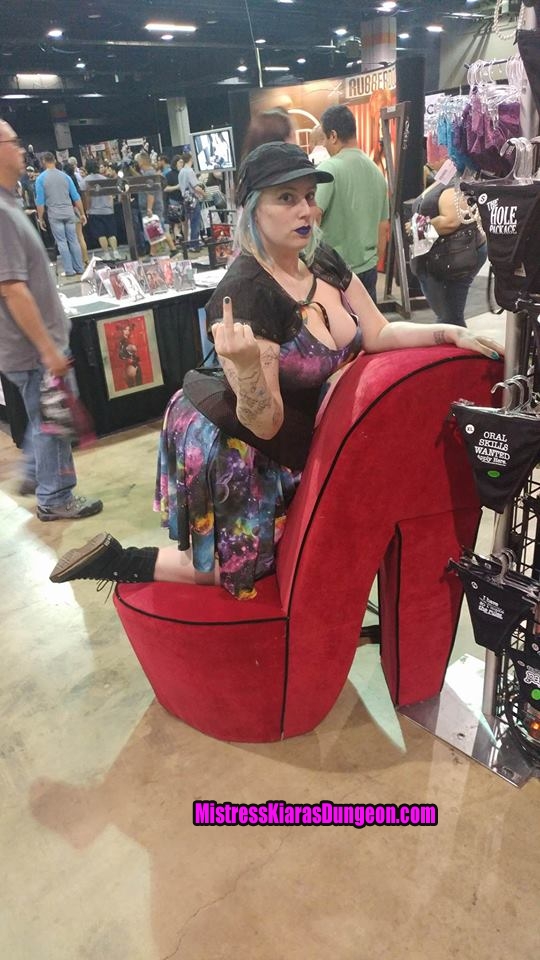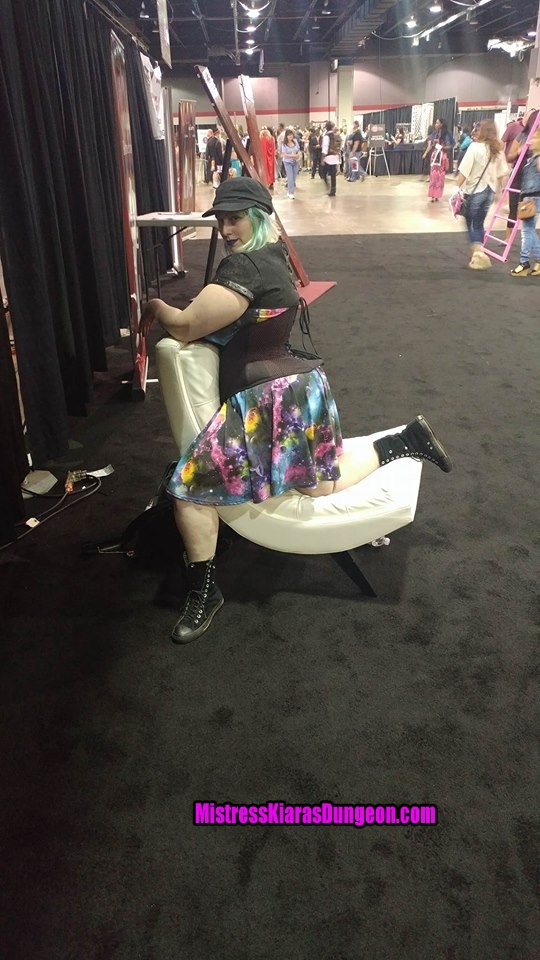 I was a total hit in My sexy new custom corset – I love the way these 2 pics show off My sexy curves!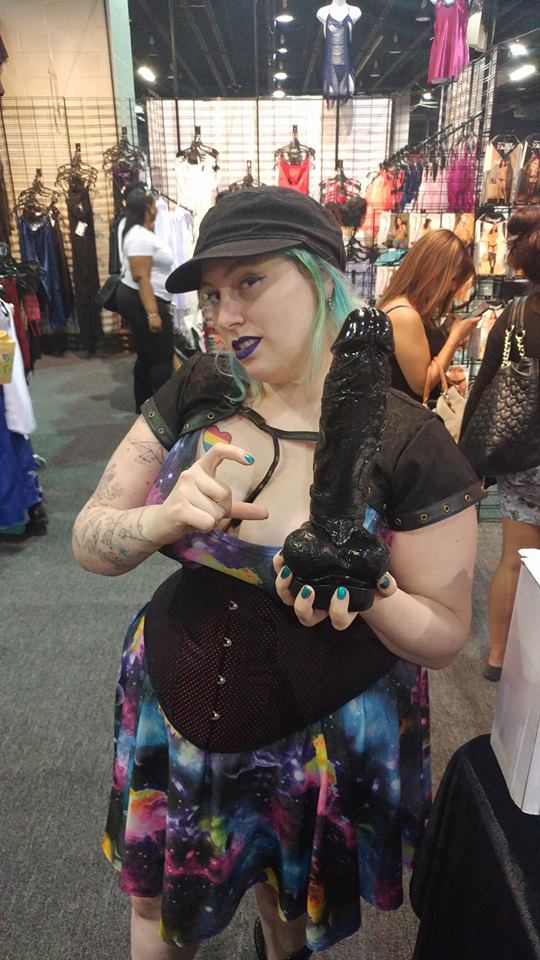 God, aren't you just so TINY compared to this!? LOL! You know Me, I love small penis humiliation…. And I just couldn't pass up an opportunity for some SPH fun with this toy! BBD, anyone?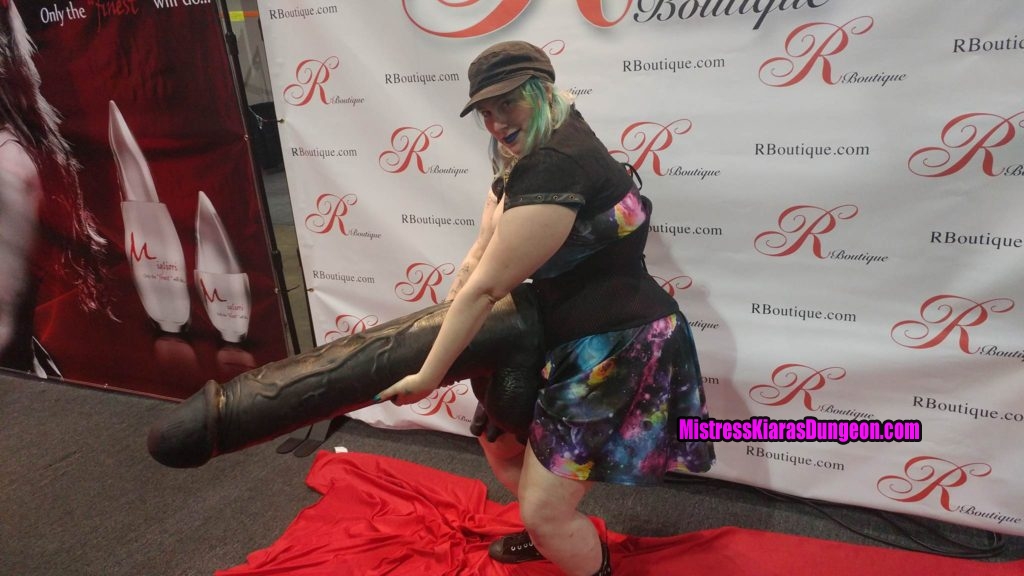 I LOVED playing with this ludicrous BBD strapon… thing… LOL! Don't be intimidated… It won't hurt… Me… LOL!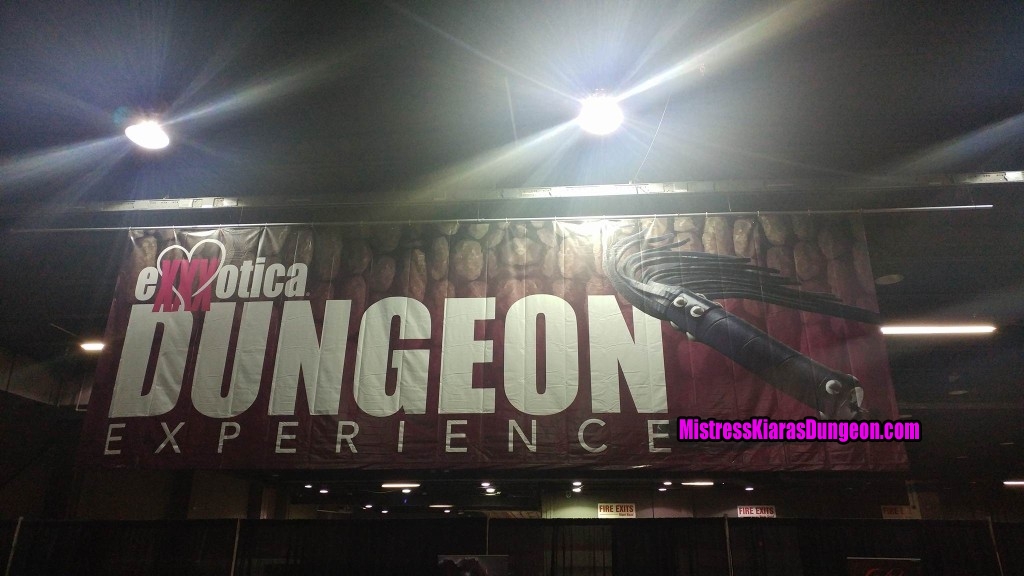 We spent most of Our time in the Dungeon area, which had a really fun set up! It was great for Me, but I was REALLY happy to see a bunch of 'newbies' just playing around with all the equipment!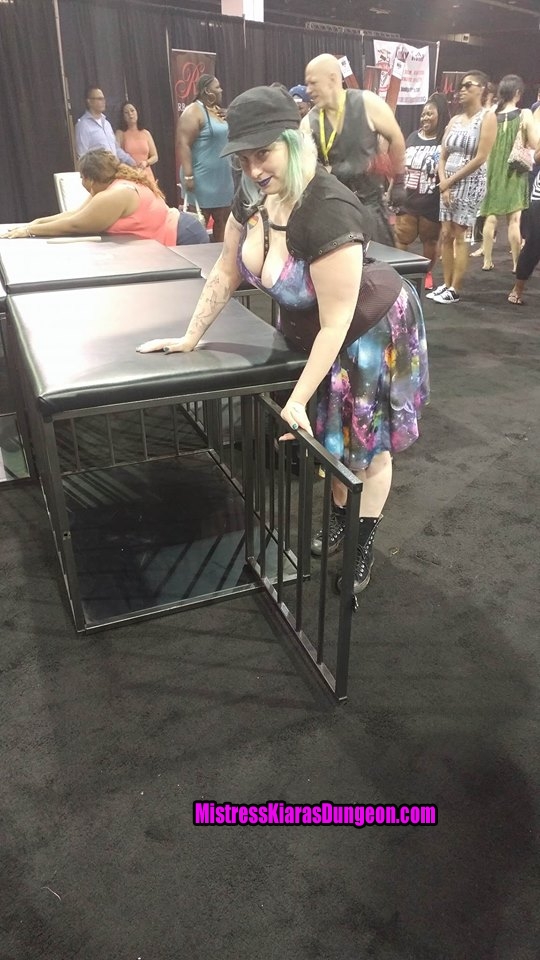 OK, I officially need one of these – it's a combination cage and spanking bench! Isn't it fantastic!? Bet you wish you were there to be caged by Me, huh, freak?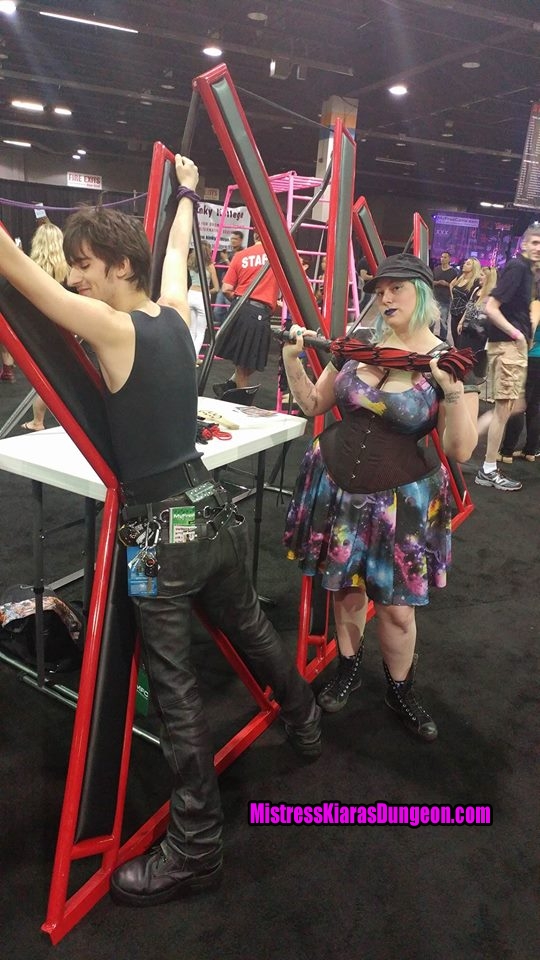 They had these sexy custom Saint Andrew's Cross' made up. I meant to get a pic from far away but I forgot because I was too busy flogging and paddling this sub lol! I DID, however, make a couple vines of Me enjoying Myself. Just a little taste, though… Wouldn't want you to blow it without remembering to PAY UP first!
Flogging…
LOL I was so happy with this paddle! It had a Batman symbol on the back – idk why that just totally amused the shit out of Me lol.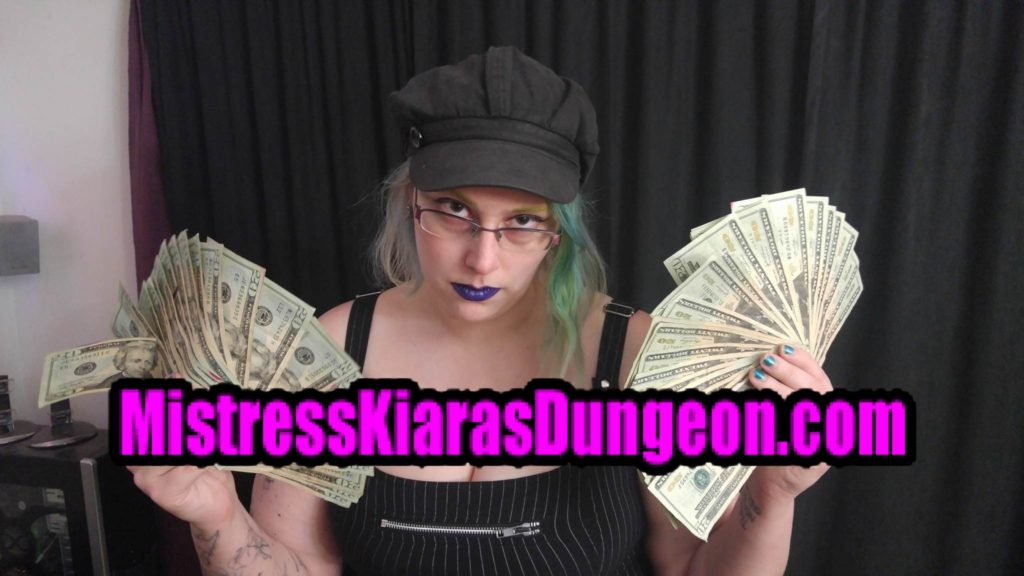 So there you have it. That was My experience at Exxxotica Expo Chicago. Grand total – not including hotel, food, drinks, and travel (all paid for by a local Chicago sub) came out to around $1500 + tips & tributes. But ask yourselves this – do I REALLY look impressed by that…?
—Tribute Me!—
—Buy My Fetish Clips!—
—Connect With Me—
Main Website: Financial Domination Princess Kiara
Serve Me and My Friends: Pretty Punk Princesses
Amazon wish list: http://www.amazon.com/wishlist/3C5E4AZCW0649
Follow me on Twitter: http://twitter.com/#!/DominaKiara
email: dominakiara@gmail.com