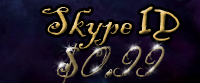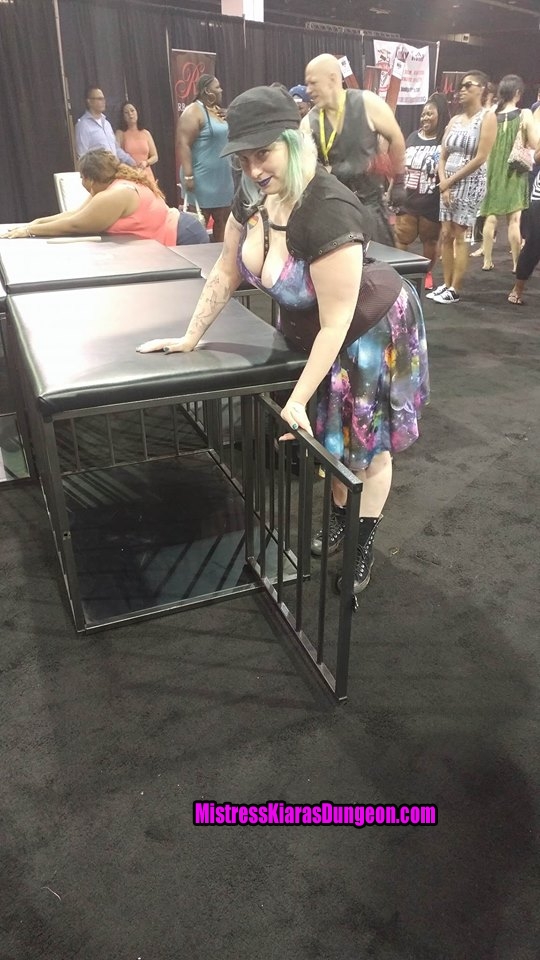 Congratulations on recognizing Perfection when you see it. you've taken the first step to giving your  life a purpose by serving Me, Mistress Kiara. I have been a femdom Mistress since 2005. I've seen others come and go, but I can't stay away from this life! Love what you do and you'll never work a day in your life, and I LOVE being a femdom Goddess! If you have any questions for Me, or if you would like to set up a session where you can completely surrender to Mistress Kiara, then send an email to dominakiara@gmail.com or you can purchase My YIM or Skype screen name at the top of any page of My website. Don't have Niteflirt? Sing up and receive 3 free minutes! If that's still not an option, check out the Tribute page for more information on ways to serve Me.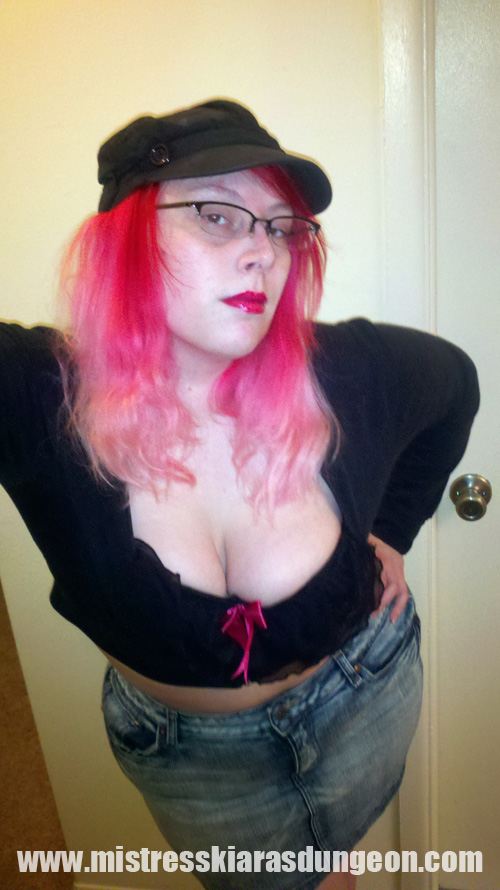 Take a look around My femdom dungeon. There are many sexy fetish pictures to drool over in My gallery. If you want to start a shrine to your femdom Goddess, visit the sales page and buy some of My old stockings, toenail clippings, pedegg dust, used cigarette butts, or even a pair of My old nasty panties – you fucking freak! I've also got plenty of picture packs, clips, and assignments for sale as well. Or if you're REALLY brave, you can go to the sessions page and serve your Goddess. I offer webcam, phone, instant messaging, and real time Domination sessions.
About Mistress Kiara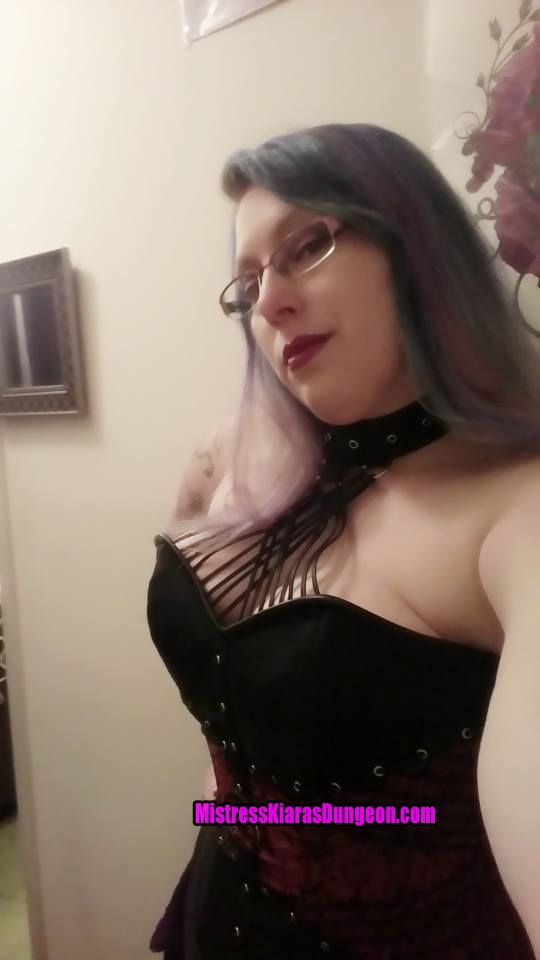 FAQs/Interview
Q. How should I address You?
A. Mistress, Goddess, Princess, or Queen – all are fitting and acceptable.
Q. How do you address your submissives?
A. I prefer terms like 'puppet' and 'pet' when referring to My submissives. While many are into the humiliation that terms such as 'loser' and 'pig' provide, I also have MANY subs who aren't losers at all. They have high class jobs and are well respected in their every day life, they just happen to find submitting to a Perfect Woman financially very enjoyable ;3
Q. What type of fetish sessions do you offer?
A. Phone, webcam, and instant messaging, as well as real time out call sessions in the Ann Arbor/Ypsi area of Michigan.
Q. Why haven't you responded to My email?
A. There are several reasons emails go unanswered by Me. I don't require tribute up front, for just discussing things, but if you are jumping right into fetish discussion then I will usually just respond back with information on how you can tribute for your session. The only emails I outright ignore are those from known time wasters or those asking for things I don't do (blood, scat, needles anything illegal).
Q. Can I order a naked clip/session with you?
A. No. My subs are never worthy of seeing My perfect body. I'm a Domme, not a stripper.
Q. Can I get unblocked by you if I was blocked for time wasting or being rude?
A. Yes. Send a $100 amazon gift card to My email – dominakiara (at) gmail.com and tell Me your screen name in the message section and I will unblock you. *NOTE* This does NOT preclude you from being blocked again should you break the rules a second time, and each subsequent rule breaking causes the amount owed for unblocking to double.
Q: I want to get to know you (where you were born, life goals, ambitions, etc):
A: Born in Mt. Clemens Michigan and raised in Shelby Twp. Both are suburbs of Detroit. I graduated from college in Clinton Twp. and then moved to Ann Arbor where I currently reside. If I continue with school, it will be to get both a master in Psychology as well as to become a nurse practitioner so that I can both council and prescribe as needed for My patients. Currently, though, My goal is to just be the best Domme I can be. The best way to get to know Me better is through serving Me.
Q. What are your favorite fetishes?
A. I enjoy many fetishes, but My favorites would have to be sissification, humiliation, blackmail, and financial domination.
Q. Besides owning submissive men, what are your hobbies?
A. I love being active. Currently, I am training Brazillian Jiu Jitsu submission grappling. I'm the only woman in My gym, which is great! I love being the only female there submitting all the men LOL!
Q. What is your favorite Book
A. Kiss My Tiara: How to Rule the World as a SmartMouth Goddes by Susan Jane Gilman
Q. Do you smoke?
A. Yes
Q. Do you like to make your slaves cry?
A. Yes, when I'm in the proper mood to.
Q. How long have you been a Mistress?
A. Since 2005
Q. Are you active on social media?
A. Mostly just Twitter – @DominaKiara
Q. How did you get into becoming a dominatrix/model?
A. I had always had a Dominant personality, but My first year of college (2005), a friend said she was getting into phone sex and would I like to join her? I talked to the company head about it and said "that's not really My thing, but what about Domination phone sex?" and it all went from there… I learned more about the different things I enjoyed, the names of the fetishes that I had enjoyed privately but never knew what to call. My porn collection exploded when I learned what keywords to search for lol – it was such a wonderful, eye opening experience!
But then I got greedy… I saw the amount of money the company was making off of Me and I said "Fuck that!" I bought a domain name and started My own business. Now I run a similar company for a few other of My Domme friends who don't have the time or energy to promote for themselves. It's called Pretty Punk Princesses – http://www.prettypunkprincesses.com
Q. What is it that makes you different from other dominatrix?
A: My style, for one. There aren't honestly too many goth/punk dominatrices out there. Also the fact that I tease with My body, but I never fully put it on display. I've seen a lot of new girls who jump right in with tits and ass and pussy pics and clips, and that's fine if that's what you're into. But I feel that My slaves will never truly be worthy to see that much of Me. They will long for what they cannot have or even see. They will beg and plead and love it when I tell them that they are not and never will be worthy.
Q. What do you like to do in your spare time?
A. I'm an avid video gamer. I prefer survival horror and sandbox style games. I also do a lot of judo, Brazilian jiujitsu, and a bit of art for fun. I do tight lacing and corset training on both Myself and My slaves, particularly My sissies. I love baking, especially for those I care about as well.
Q. Besides BDSM, what are Your passions in life?
A. I love astronomy and art. I have the entire Northern hemisphere of constellations tattooed on My right arm. It is by far My favorite tattoo (so far ;3) and I plan to get My favorite nebula (the Orion Nebula, M42) tattooed on My left thigh. I also enjoy music, particularly singing. I have a piece of music from a friend who worked at the Renaissance Festival as a bard tattooed on My right thigh. I'm very passionate about art, particularly tattoos, and plan to have as many as possible. I have 6 currently.
Q. Do you have a favorite movie?
A. Yes, I have several actually. Fight Club, Momento, Cool World, SLC Punk
Q. Do you get physically turned on from your fetishes?
A. Of course! Otherwise, they wouldn't be fetishes.
Q. Are you currently seeking slaves?
A. Always!
Q. How do I know you're really who you say you are?
A. First off, I've been doing this since 2005, and 99% of the slaves who've asked Me this were just time wasters. For the 1% of you who has been duped by someone claiming to be a Mistress in the past who was either a guy playing games or using fake pics, I want to sincerely apologize. This scene has gotten swamped with fakes in both the Domme and sub world. I am on many different sites which cam verify every member of their Mistress community, including Findoms.com. I also Offer cam sessions and have been getting excellent ratings on NiteFlirt, which is simply not possible if I were a guy or a fake. Here is are a couple 'verification pic' I took as well: