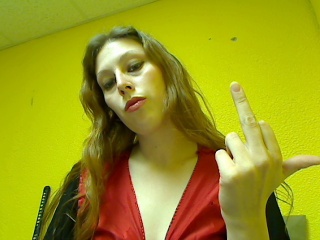 This is a section of My dungeon is dedicated to all of the time wasting losers I've encountered in My 5 years of being an online Domme. A loser is differet for everyone, but the ones posted here are those who have wasted My time to a degree that caused Me to want to share it with My other Domme Sisters in hopes that they will not have their time wasted as I have. I hope that this page will help warn of the losers tendencies of the useless scum featured here so that other Mistresses will have an easier time of finding genuine saves. I will put information and pictures up here about each slave who either promised to pay and never did, cancelled on an Amazon order or giftcard, or decided to stop paying while under a blackmail contract.
This section of the site is also for pictures and information that My blackmail sluts have given Me and are contractually obligated to allow Me to post here. If you see your blackmail information here, then wipe the shit out of your panties and know that there is still hope. Depending on how dire your offense, you can send tribute in recompense for your offense and have your pictures and information removed
Mistresses – if you see one of your slaves here or if you want to contribute to My comprehensive loser's list (we are currently on page 1 on google when searching for 'Mistress loser list'), send an e-mail to dominakiara[at]gmail[dot]com and be sure to include a link to your website.