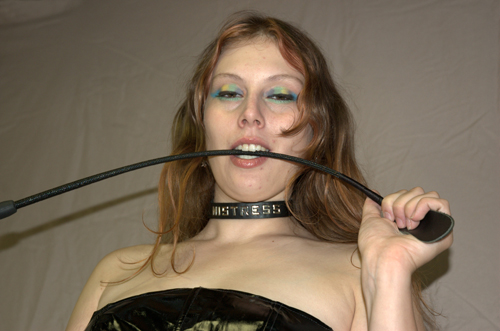 So, you want to worship this Goddess in person? you think your are worthy to actually see My face as I react to whatever absurd things you say and do for Me? you want to feel the sting of My whip as I punish you for your failures?
I love doing real time sessions with My slaves and submissive males who wish to serve Me, so if you're in the Ann Arbor, MI area, let Me know! However, this is a dangerous world and in order for Me to feel comfortable about having a real time session with you, I will need to meet you and get to know you first. Feel free to purchase My screen names and add Me to your messenger list, or send Me an email at dominakiara@gmail.com
The way this works is simple. The first step is to decide how long of a session you would like to purchase. More time can always be added later if you decide you would like to serve for longer, so long as you bring the funds to the session. Session prices are a base $150 per hour. Depending on the fetishes desired, the price may go up from there. For example, financial domination and blackmail sessions are FAR more expensive than sissification, bondage, caning, or humiliation sessions.
*DISCOUNT!* If you will allow yourself to be filmed during our session, and sign a model release allowing Me to sell it in My clips stores, then the cost will be lowered to $100 per hour. I do allow the use of masks/hoods/etc in order to keep your identity secret, and I will choose slave name, which I will use to refer to you during the clips and in the descriptions.
Next we will need to set up a meeting between you and Me where you will purchase Me dinner and a small gift. As we eat, we can chat about what you would like to do in the session. If the meeting goes well, we will decide on a date and time for the session and get all required paperwork (model releases, waivers, etc) signed.
There are only certain fetishes that I will indulge in real-time, and I will NOT perform anything considered 'prostitution' by the local laws of the state of Michigan. This includes but is not limited to ANY FORM OF PENETRATION (yes, this includes strap-on. If a Mistress offers you strap-on play in Michigan, she is ENGAGING IN ILLEGAL PROSTITUTION.).
If you are a financial slave seeking a real time shopping session with Me, then you will need to be prepared to spend. DO NOT attempt a real-time shopping session if your finances cannot handle it! There is a $200 tribute to be paid BEFORE we meet for the shopping trip. This $200 does NOT go toward your shopping total. you will be expected to carry My purchases and follow Me around whichever mall I choose. you will spend a MINIMUM of $500 on this trip and receive in return only the thrill of shopping for a Perfect Goddess.
To set up a real time femdom fetish session, send Me an email at dominakiara[at]gmail[dot]com or talk to Me about it on YIM – My screen name is for purchase many places throughout My website, including at the top of this page. In the email, you MUST tell Me these things if you want Me to treat you like a serious servant:
1. When is best for you for the initial meetup
2. What will you be bringing Me on the initial meetup? My favorites include sexy shoes (size 8), cute stockings, chocolate, etc. I will let you know if your suggestion for the initial gift is not acceptable.
3. How long of a session do you want?
4. What are your key fetish interests and intentions for this session?
Once you have sent Me this specific information, I will reply with the meeting place and time.
SERVING MORE THAN ONE GODDESS AT A TIME
Several of My good Domme friends live in the area. If you want to serve more than one Mistress, the fees are doubled, as We will BOTH be paid. If you are interested in serving Me and one (or more) or My friends, be sure to include this information in your emails to Me.