Skype: GoddessKiara

Whether you're looking to make an initial tribute to impress Me, pay for a femdom or fetish session, wanting to discuss blackmail fetish, pay a weekly or monthly blackmail contract fee, pay to get any of your pictures or information removed from My websites or twitter, pay a buyout fee, or just want to make your Goddess happy, you're in the right place. Read through the tribute options below and choose which one is most convenient for you.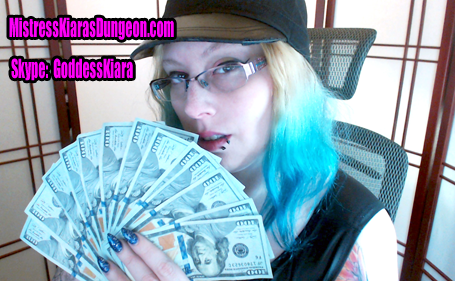 Option 1, Payment Apps:
My #1 preferred means of receiving tributes are Cashapp, Venmo, GPay, and Paypal. NOTE: When sending via these processors, be sure to leave any 'for' sections BLANK, or just put an emoji or sticker if it's absolutely necessary. DO NOT mention ANY adult/femdom/fetish/Domme interaction as your account can and WILL get blocked by their services!
CashApp: Cash app is a free phone app where you can send directly from your bank account or credit card to Mine. My tag is $DominaKiara but if you don't have it, use My link to join and we both get a $5 bonus… Which you can then send to ME lol. cash.me/app/WCSVFJL
Venmo: Similar to Cashapp, I have the same name on Venmo as well – DominaKiara
GPay/Google Pay: Same as above. My email for Google Pay is dominakiara@gmail.com
For information on how send tributes via Paypal, email Me and respectfully tell Me the amount you will be sending so that I can send you an invoice. Paypal transactions will come through as a discreet purchase with nothing related to adult services listed in the invoice or on your receipt. IMPORTANT NOTE: My ppal email is NOT dominakiara@gmail.com and if you send money to that email I WILL NOT GET IT! I also DO NOT accept Paypal unless you have tributed Me before via some other payment method.
Option 2, Crypto Currency:
Crypto currencies are fun and discreet ways to pay for My time, services, and products. I accept BTC to My personal wallet, but if you want to send another type of currency or do not want to message Me for My private wallet link, you can send to Me via Spankpay using the button link below.

Option 3, Adult Payment Processors: For first timers, I prefer to be paid via IWantClips, SextPanther, or LoyalFans. They all offer tip/tributes options and take a smaller cut of what you send (around 20% of every dollar sent). you can even use the widget below for IWantClips.
NOTE: Buying a clip from Me DOES NOT count as sending a tribute. When you buy a DVD, you don't count that as sending a tip to the actors, do you? Once you send a tip or a tribute, email Me and tell Me what day and time the tribute was sent as well as your screen name on whichever site you used so that I can verify it was you.
Option 4, C4S & NF
:
Clips4sale
and
Niteflirt
take quite a large percentage of each tribute or tip you send, but I do still accept them as a payment option. Know that if you are paying for a session or clip via these options that you will need to pay a bit extra because of the larger cut they take.
Option 5, Amazon Gift Card: I also accept Amazon Gift cards sent to My email address, dominakiara@gmail.com .  Amazon accepts the use of prepaid Visa gift cards on their site, which means you don't have to worry about any form of 'paper trail' which might get you caught serving a Domme. THAT means that I will NEVER accept the excuse of "I don't have a credit card," or "I don't want my wife to find out." For those of you who like to send gifts to your spoiled blackmail Mistress,

.