Are you ready for a session with the Queen? Only one way to find out! I offer several ways to serve Me. I enjoy real time Domination for those in the Ann Arbor, MI area (about an hour out from the Detroit airport). For those who prefer to serve Me as their Distance Domme, I also enjoy femdom phone service as well as fetish text sessions. Or if you'd like to drool over your findom Goddess live, I also off Mistress cam sessions.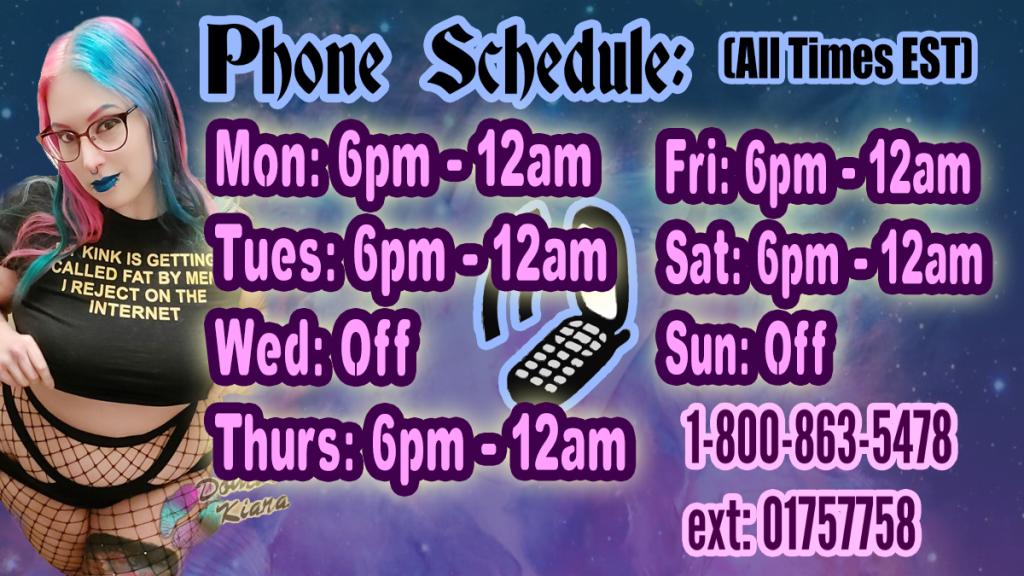 My schedule for online and phone, text, and cam sessions is above. Note that this is a Tentative schedule, meaning that I try to stick to it, but sometimes things come up. Mistress is busy, My life is more important than your dick. Sorry, not sorry.
So, First, check if I'm available. The easiest way to check on My current availability status is to go to My Twitter and read My tweets. If there is a tweet from today where I have posted My schedule, it will say that I am available and what types of sessions I am offering that day. 
Next, send Me a message and make sure that I am available for the session in question. I don't do all types of sessions at all times. I might be out of the house, doing a session with someone else, etc.
From now on, any payments sent for a session without first verifying that I am available for that session will not be refunded!
If you'd like to learn about the different types of sessions I enjoy, simply click the buttons below. Price is based on the amount of time you want to spend in a session with Me as well as the fetishes you wish to enjoy, meaning that each price is subject to change. Of course, payment or tribute will be received before the start of the session.
NOTE: From now on, I will not be booking sessions a head of time unless they are real time sessions! Sessions can be purchased a maximum of 15 minutes ahead of the time you wish your session to be booked. Blocks of time not used before their 15 minute expiration will be considered tributes and you WILL NOT receive your session.
The option of using Niteflirt is only to be used for phone sessions or phone with cam sessions using My NiteFlirt number or My click to call buttons. I don't accept tributes through NiteFlirt for Mistress cam, text, or phone sessions, nor will I intentionally break any of the Niteflirt TOS rules. I enjoy some taboo topics, but they are against the Niteflirt TOS and thus must be discussed via other means.
Everyone's fetish is different, so let Me know the specifics of yours!
Email (send Amazon Gift Cards here – USD ONLY!): DominaKiara@gmail.com
Skype: GoddessKiara