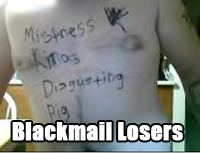 For anyone who's never met Me before, let Me be the first to say that blackmail fetish is My favorite. It is a real way to gain control over a sub when he can't be in a real time session. Bondage and chastity become unnecessary when I have all the information and humiliating pictures and videos of My subs. With the threat of being exposed, you'll do anything I say…
Just look at My blackmail fetish superstar luis here… he's been serving Me for several years now, and look at the hilarious shit I can make him do! All because I'm the best blackmail Mistress you've ever meet. I literally wrote the website for blackmail fetish!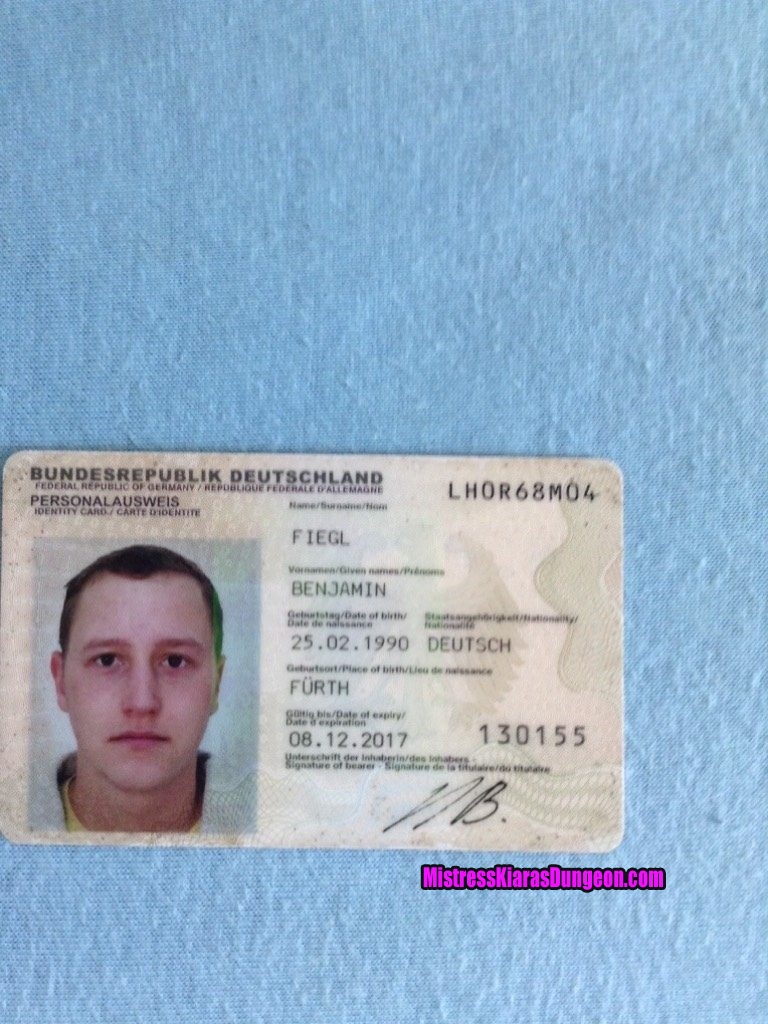 Of course, not all blackmail fetish slaves are going to be this stupid, but some of them fuck up so badly that I get to post their IDs, much like Benjamin Fiegl here. It's really quite simple if you don't want to have your blackmail information and pictures exposed – follow the simple rules outlined in detail in your blackmail contract and make your payments on time. Otherwise, you'll find yourself on My blog where you'll have to pay to get your information and pictures removed.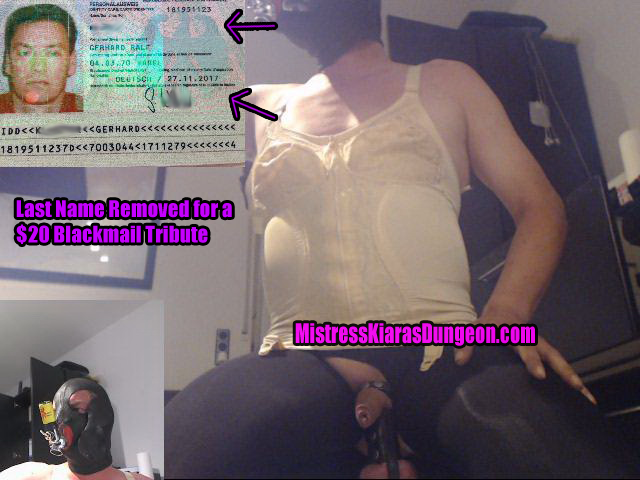 Of course, some of My blackmail slaves enjoy being in the spotlight, like gerhard and james here. These blackmail slaves love it when I take screenshots during our cam sessions, and even send Me tons of humiliating blackmail pictures that they have had taken over the years through Skype. They then pay to get their blackmail information and pictures removed, so it's a win-win. They pays for the blackmail and exposure then pay to get removed lol.

And of course, if My blackmail slaves fuck around an fail to pay their blackmail tributes or removal fees, they become a recurring star on My website, like sune andersson here. sune goes on and on about how I need to remove his blackmail information and picture from My website, but he never pays so they stay and get reposted on occasion.
NOTE: I  engage in CONSENSUAL BLACKMAIL FETISH ONLY. I will NEVER blackmail a slave unless he requests it and agrees to a specialized blackmail contract. If you would like to request a blackmail contract yourself, go to http://blackmailfetish.com/contact/ and fill out the form.
Of course, I have several clips involving blackmail fetish for sale, and I'm adding more to My clip stores all the time! Here is just a small sample of blackmail fetish clips I've made over the years.
Approaching Me for Blackmail Properly
Since blackmail is by far My favorite fetish, and since I've been doing it for gonig on 7 years now, it's safe to say that I know pretty much everything that there is to know about how the blackmail fetish works… I've perfected the art of weeding out the losers who can't handle My TRUE blackmail. Let's get one thing straight before you even buy this video – blackmail fetish is NOT a game! I do not PLAY at blackmail. If you fuck up, you WILL be outed, and you WILL pay to get your information off of My website… Or else it will be there, forever…
—
Fear is Just Another Word for Excitement
I get told day after day by puppets like you that My blackmail program is the scariest around. While that may be true, I also think that you just aren't understanding how My blackmail ACTUALLY works. Since My video on how to approach Me for blackmail was such a success, I made this one about how My blackmail program ACTUALLY works, and why you don't need to be so scared. It's really simple, puppet. All you have to do is submit…
—
Sexy Blackmail Fetish Tit Tease

My tits make you so weak… So weak in fact, that you will give Me ALL of your blackmail information without even realizing it… But it will be worth it, My little puppet, because for everything you tell Me, I will undo one more button on My tight little top just for you…
—
Blackmailed into Jerking Off With Penis Reduction Cream

This is a little experiment I started with loser fag cash slave james. For the next few days, he will hvae to stroke with this specially formulated penis reduction cream. Each day, we will measure his tiny dicklet and see how far he's come. And if he DOESN'T stroke for Me like a good loser, I'll post all his blackmail information LOL! Will he make it? One way to find out!