Phew! I finally feel recovered from all the Birthday excitement! So before I get into bragging about everything I got for My Birthday this year, I have the unfortunate task of outing My little foot piggy, David Aimes. I'm sure most of My puppets remember My revolutionary Progressive Financial Domination video from last month, but in case you missed it, here it is:
—
I've recorded an extra special clip for My little foot piggy david aimes. his clip contains financial domination, blackmail fetish, and foot worship & humiliation all in one ;3
My little foot piggy ordered a custom blackmail financial domination foot worship clip – but with a twist! you all get the opportunity to buy this clip, and every time you do he will send Me a $5 tribute… Or else he gets outed on My site! xD What a dope! EVERY SINGLE ONE of you foot puppets are going to buy this clip. Just look at the preview – how can you resist?
—
Well, that clip was one of My best sellers last month, racking up enough sales to make David owe Me $175. We agreed that April 1st would be a good 'due date,' but it looks like david was an April fool after all… While he did end up making a few payments, he just couldn't come up with enough money to satisfy his Financial Domination Mistress…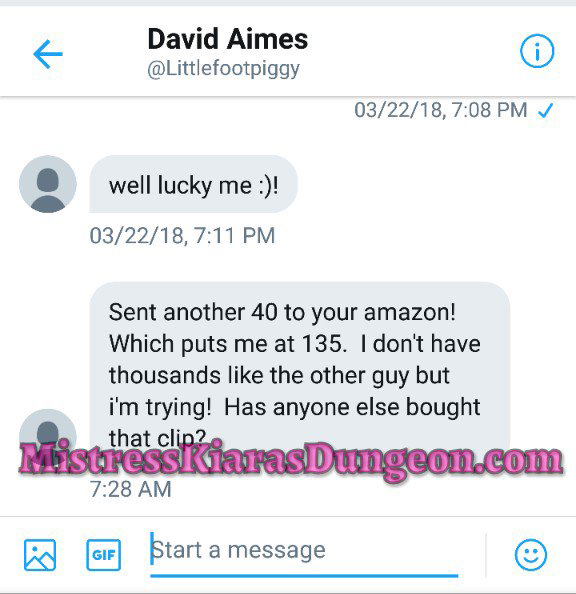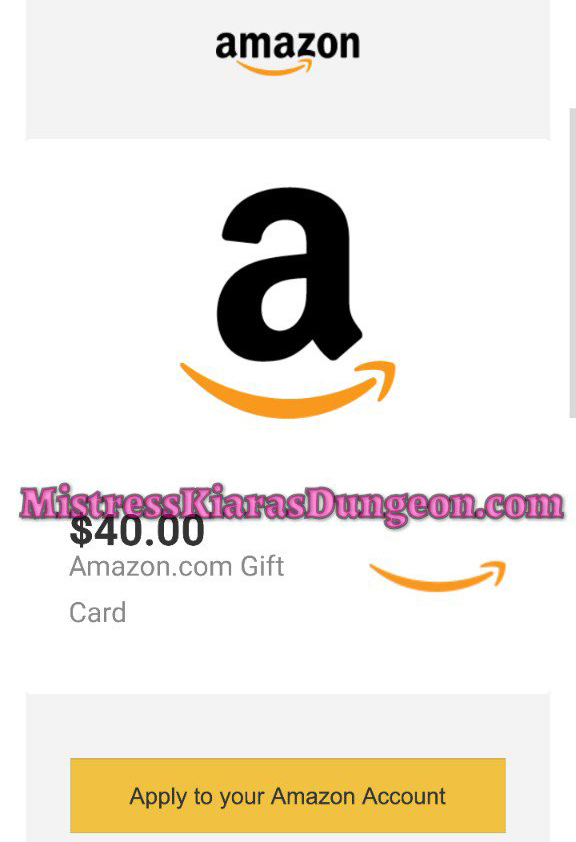 And, unfortunately for him, that's when he stopped paying… Which means that he still owed  will incur the late fee of $100 added onto the total he owed, which was $135. However, now that I'm posting all of his photos, videos, and personal information here, he's ALSO going to owe $100 per video, $50 per picture, and $10 per line of information here:
madasahatter1000 on YIM, david aimes, aka @Littelfootpiggy on Twitter, here's his gallery:
And, of course, the 3 videos he sent Me of him eating shit and sucking cock because he thought it would amuse Me… WARNING – this is graphic and DISGUSTING!!!
With all of this, david now owes Me the $235 for last month's tribute + late fees, $100 for the month of May, $300 for the videos, $30 for the information, and $700 for his pictures to be removed. That brings what he owes Me to a grand total of $1,365. Who wants to bet his loser ass is bitch out again on paying Me? Some of these blackmail pictures are from 2010! Yeah, he's been My little foot piggy for that long… And always will be…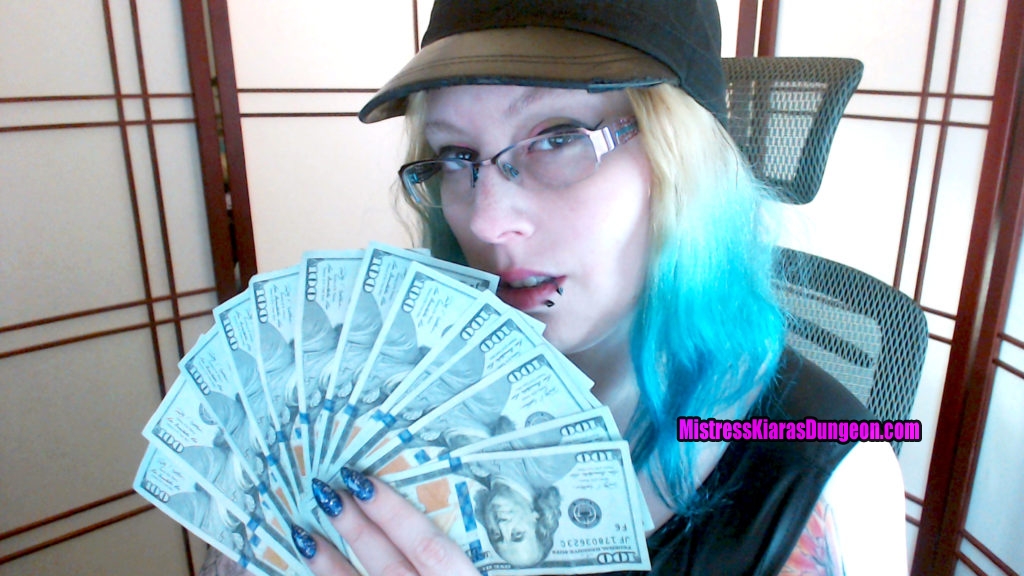 But now on to the good shit – My Birthday! This year's top contributor was My little doughboy,Who juuuust managed to squeak by with his tributes, dinner, shopping spree reimbursement, and real time session. There was one VERY close runner up, though, who definitely deserves mentioning. My little coke boy piggy impressed Me by staying up all night and sending Me over $1700 in one night so that he could snort coke and make a fool of himself for My birthday xD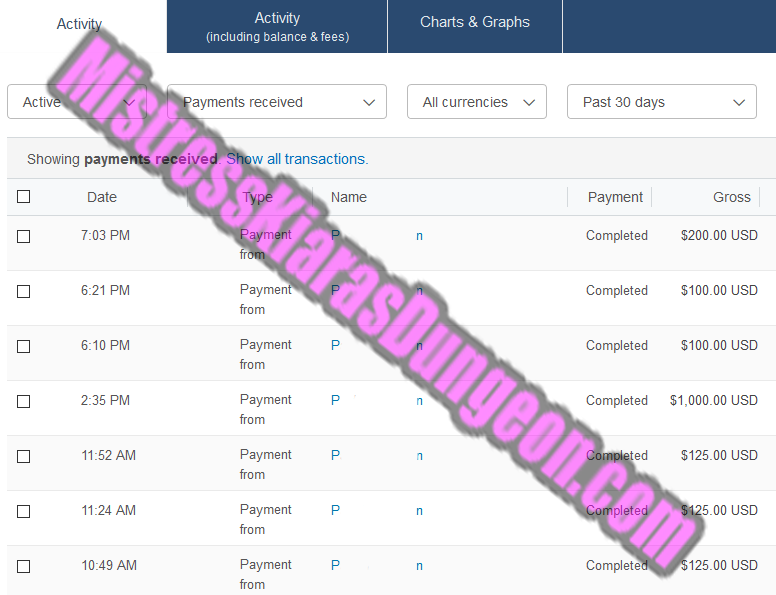 Not bad, for a new boy who wanted to treat Me to a fun Birthday! But, as I said, doughboy stomped even this eager puppet's determination and blew past him with what he spent on Me this year. It started off with a $500 shopping spree on Amazon that he reimbursed Me for…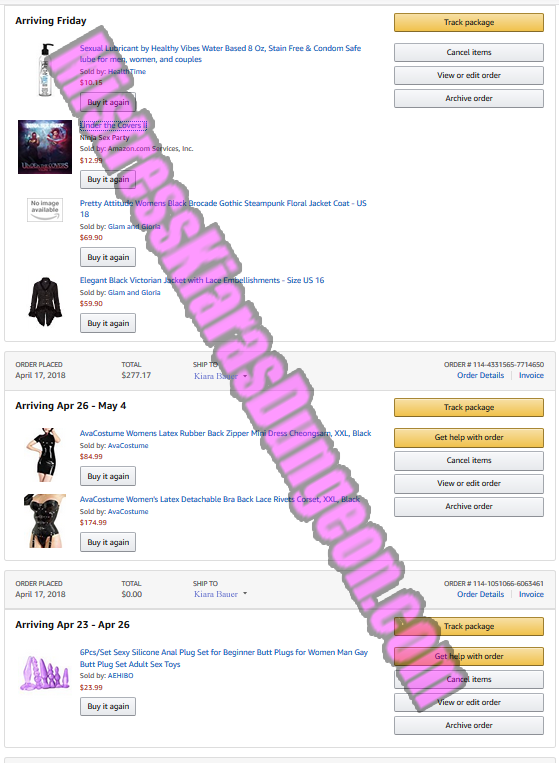 And then, just like for Christmas, he took Me out to dinner. The place we went to for Christmas wasn't so great, so we went down the street to the Chop House, which was more expensive. You get what you pay for… I got an $80 wagyu steak with a couple sides, and it was AMAZING! Almost certainly the best steak I've ever eaten! Afterward, I got an adorable birthday cake, which was actually a surprise! I honestly thought we would just have our dinner and discuss birthday fun later, but it was really sweet that he told the waitress before I even got there that we were celebrating My birthday <3 And, of course, on our way out he gave Me My reimbursement.
But the REAL fun came about just yesterday during our real time session! First, before I even set out for the hotel suite he paid for, I got Myself a sexy pedicure. I'd never had rhinestones added before, so I had 3 put on each of My big toes, just as an added Birthday bonus to Myself!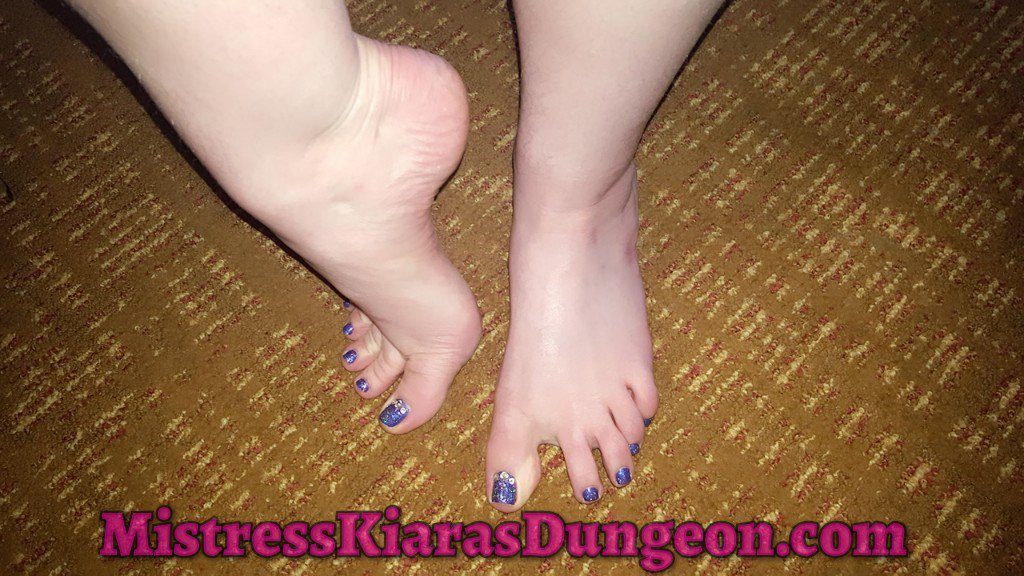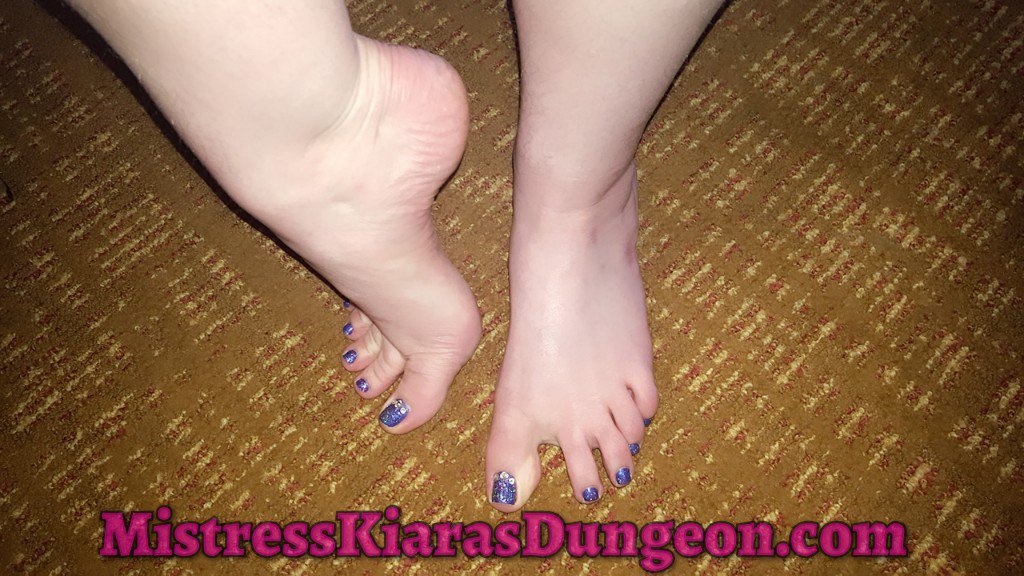 I LOVE how they came out! But they got done way earlier than expected and I ended up getting to the hotel a few hours before doughboy was supposed to be there. Of course, the sexy cuckoldress that I am, I have 2 hot boyfriends who helped Me enjoy the hotel until doughboy arrived…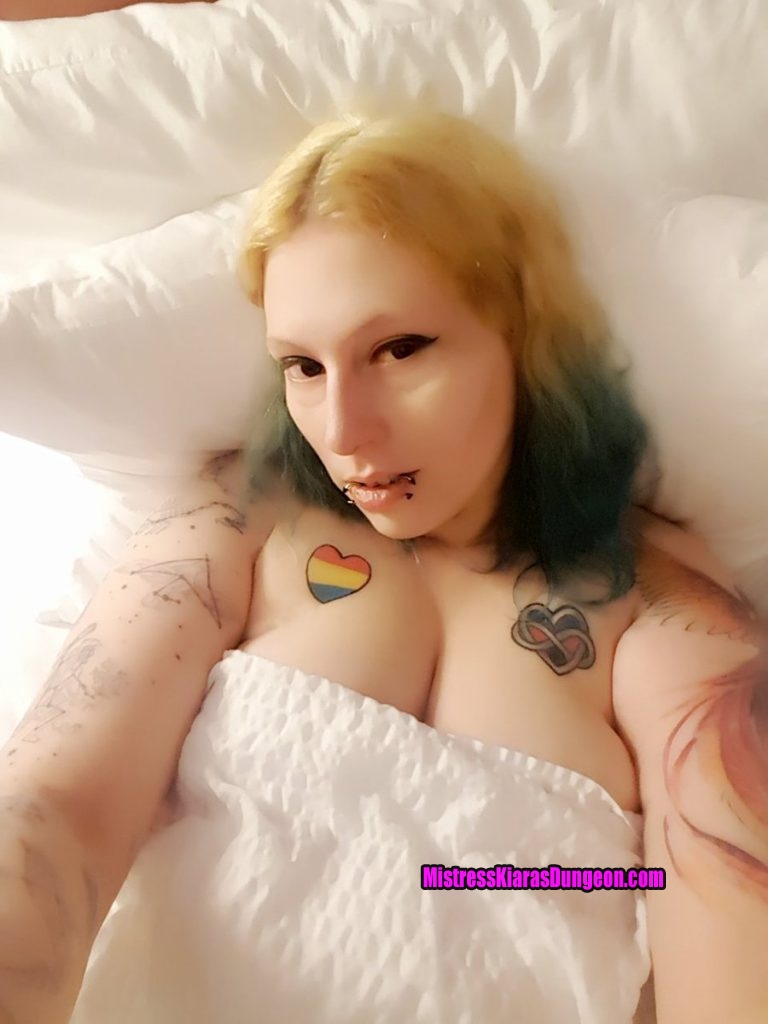 And when doughboy arrived, we had a TON of fun! It was a day of firsts for him, with a couple firsts for Me as well! We, of course, had a lot of beat down fun, grappling, face slapping, foot worship, etc. And, as usual, he gave Me a nice fat tribute – $1100 this time.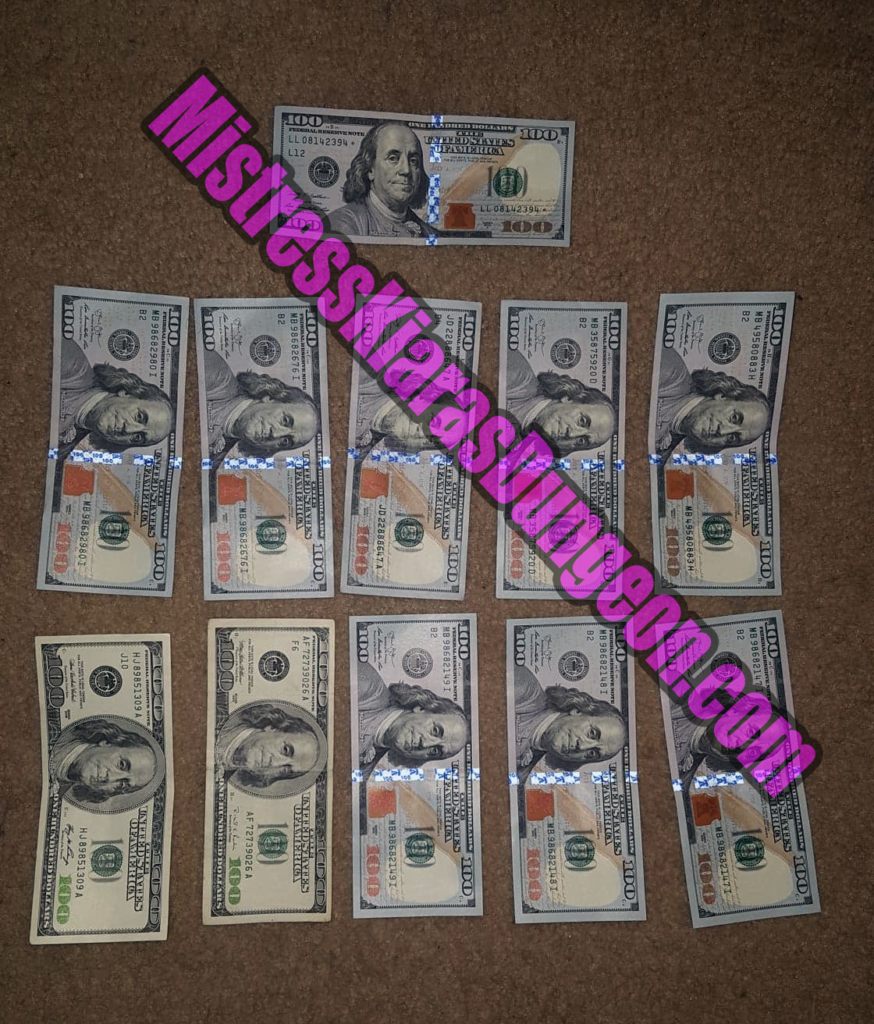 But doughboy allowed Me to take his ass for the first time in decades, and he also drank My golden nectar (a first for Me!) right from the toilet. We enjoyed countless other fun fetishes – spitting, worn panty gagging, cum eating, etc. But I won't go into too much detail because I got it all on video! Look for a new clip from Me featuring doughboy soon! But here's one final picture of all of the cash that he gave Me together. This $1600 plus the $240 ($300 with tip) dinner he bought Me makes him this year's birthday tribute winner at about $1900. Better luck next year, boys… And never stop trying to impress Me! ;3