It's March! That means that winter is finally coming to an end. Warmer weather means more time outside, sexier outfits, and cash meets galore! Are you prepared for spring and all that it brings?
Mistress's Birthday is Coming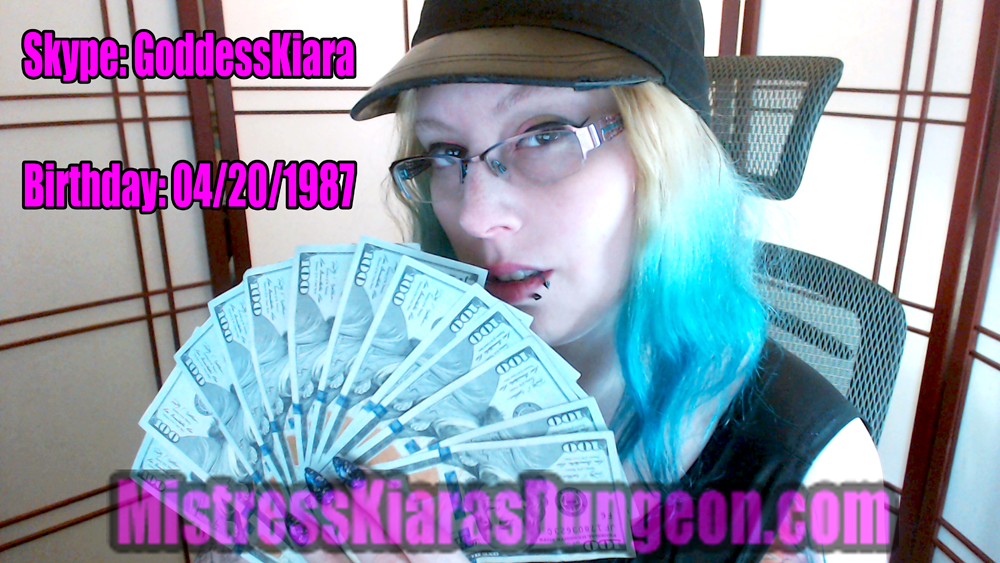 My good pets know that Mistress Kiara's birthday is April 20th, which means you have a little more than a month to prepare! I expect lots of gifts and tributes, so you better start saving! Or even better, just start buying your Mistress stuff now. My amazon wish list link is available at the top of My home page on mobile or along the left sidebar on desktop, but for your convenience, I'll put it here too. you're welcome.

PS – this is NOT OPTIONAL for subs who are under a blackmail fetish contract with Me!
$600 Day From 1 New Blackmail sub
Speaking of blackmail fetish and subs who are under contract, I had a lovely new pet, chase, join My stable this past week. he's already paid for a little bit of exposure, so go check out his personal blackmail exposure blog post on My other website – BlackmailFetish.com
he only signed a 1-week long findom blackmail contract, but I extracted over $600 from him the first day! Since then, he's been paying $60 per day. Though it's already 9pm and he hasn't paid or responded to My messages today… Will chase be even MORE exposed by the end of the night!? Better check out My blackmail fetish site to find out!
Over an Hour and a Half of Hypnosis & Brainwashing!
Have you ever wanted to be addicted to a strong, sexy, big beautiful Goddess like Myself? Well now you can! This clip is 1 hr and 39 mins long and will reprogram your mind, hypnotize you, and brainwash you to become My BBW addict! And what's more, I did a femdom witchcraft spell/curse while I was recording it to make it EXTRA powerful… Can you handle it? Buy it now and find out!
Note: This comes with both an MP3 download link and an MP4 download link. The MP3 is sound only, which you can listen to over and over while you fall asleep. The MP4 has a video component to help relax your eyes and put you into trance easier.
Destiny 2
So I know that at least one or two of you have recognized My gamer tag on Destiny 2 this month. I bought it for Myself for Valentine's Day (including all of the expansions/DLCs – reimburse the $100 it cost if you really want to please Me!) and have been playing pretty often with My partner. But just because you see your Mistress in game doesn't mean you can bother Me without paying! But if you send a nice $$$$ tip, maybe I'll let you join Our fireteam LOL.
Just wanted to remind you that I have a new twitter  – @TheDominaKiara so go be sure to follow Me now and get all of My safe for work femdom & fetish updates – like this one!
https://twitter.com/TheDominaKiara/status/1501369261608030208?s=20&t=wlNNsG1Z_Ezw0L8M3WFfKA
Isn't this clip H O T!? I am loving this new brainwashing technique, and so are My subs! What do you think? What sort of fetishes do you want to see next? This one is all about findom, brainwashing, and forced intoxication.
Mistress Movie Nights
I mentioned last month that My best friend lives kind of far away so we've been watching movies together every night with some other friends as well. I use Hyperbeam, and I'm selling $5 'tickets' to join Us in the chatroom to watch the stream. We take time off when her fiance is home from deployment, but when he's away we pretty much watch 1-3 movies every night.
I'm sure you know this, but I'm a huge horror fan, so most of what we watch are horror movies. We start anywhere from 5pm to 10pm EST time (whenever My bestie gets home from work, basically) and I'll be posting about the movie nights on Twitter and LoyalFans. Follow Me now so you don't miss out! Tickets are just $5 for the whole night, so join Us in chat and have some fun!

Like I said last month, I've moved on to

LoyalFans

, a platform that has had no problems adhering to the new adult content guidelines. I'm still in the process of moving everything over from LoyalFans to Loyal, and it's a huge process. I'm running a permanent sale of 'first 3 days free for new subscribers' just because I know that once you subscribe you won't be able to resist seeing more of My sexy fetish content! Don't miss out on all the hot pictures and videos that I'm posting there every day, go subscribe!

Another of My favorite fetishes of course is small penis humiliation. That's why I made rate my tiny penis; a free website dedicated completely to tiny pindicks showing off their short comings for Me and My Domme friends to laugh at lol! We average between 200-600 views every single day from other tiny dick boys and the Mistresses like Myself who love to laugh at them. Want to feature your little dick for free small penis humiliation? Check out the site and get your pinidck posted LOL!
Want 10% off on My clips?
Join My mailing list! Every month, subscribers get a new coupon code for 10% off on purchases in My IWantClips store! You'll also get free exclusive content & additional coupons. It's free, so what do you have to lose? Subscribe now!

New Clips & Pics
That's it for now, pets. I also updated My gallery this month with all My hot new free femdom pictures for you to worship! But remember to pay your cum tax if you make a little mess… LOL! I have also added a new clip and a fun & sexy Valentine's Day assignment & pic for sale, plus revamped and lowered the price on an old clip! The assignment & pic plus the remastered clip are both 100% FREE for Loyal Fans subs, and it's way cheaper to subscribe than to buy them both outright.
Of course, if you're dumb, enjoy paying more than is necessary, or just don't want to see My other sexy femdom & fetish content, you can buy it via the links below, or send Me a message to let Me know what is your preferred payment processor from those listed on My tributes page.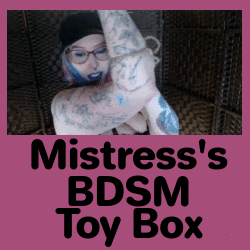 In this ~11 min clip, I pulled a handful of My favorite bdsm toys out of My toybox and showed them off for you! Impact play, chastity, pain play, this clip has it all. Buy it now!
---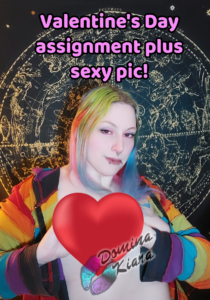 100% FREE for LoyalFans subscribers!
but if you're too dumb to subscribe, you can buy it here for almost as much as it would cost for a month's subscription LOL!
We both know you'd rather entertain Me on Valentine's Day, so that's EXACTLY what you're gonna do…
Find Me Here: All My Links
Amazon wish list: http://www.amazon.com/wishlist/3C5E4AZCW0649
Follow me on Twitter: @TheDominaKiara
email: dominakiara@gmail.com
Follow your femdom Mistress and share My content: