So much has happened since My last post! I'm FINALLY in My new place, the move was HECTIC! But I love it here, ESPECIALLY My new jacuzzi tub! In fact, I love My new tub SO much that I made TWO new picture packs in it!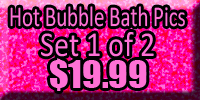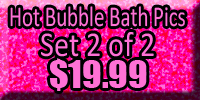 Those are a MUST have for all of you freaks, especially if you're into voyeur, bubbles, feet, flipoffs, and loser signs!
But speaking of losers, I had a hilarious one contact Me on Niteflirt this past week! Unfortunately I don't have internet at My new house yet, so I have been doing a LOT on Niteflirt. This guy is who I like to call My loser puppydog – and he made a clip of himself while on a call with Me lol!
Look at that loser! Hilarious!!! And what's even better, he told Me how his ex girlfriend got him addicted to phone sex and made him his very own tumblr account: http://jeffmyjerkoffboy.tumblr.com/ everyone be sure to take a look and laugh your asses off at his expense!
Next in My life is some big news – I  am going to be on In Bed With Doctor Sue podcast again! you will probably all remember when I did the Financial Domination Podcast with Doctor Sue a while ago. It was a blast, and I love Sue so much that We decided to do another podcast – this time about Blackmail! And what's even better, Domme Kyaa was there too, voicing Her opinion on the subject as well. We had a great debate and I can't wait for the podcast to be released!