Meet Brian Smith, a blackmail fetish slave who has come forward and begged Me not only to expose him, but also to add more to My wishlist for him to buy for Me! He's already sent Me some Amazon gift cards and sent a screen shot of him having bought Me a small gift, but I know there will be more in the future. Take notes, boys, this is how you make this Mistress happy…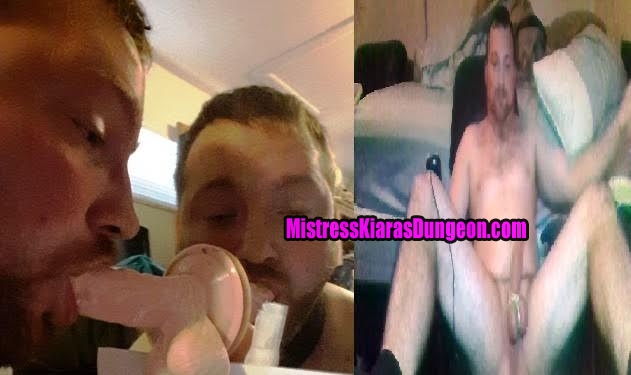 The first couple pictures he sent Me are just hilarious! Look at how hard he's trying to pose for My amusement while sucking that suction cup cock and wearing his chastity device! I will, of course, get the key soon…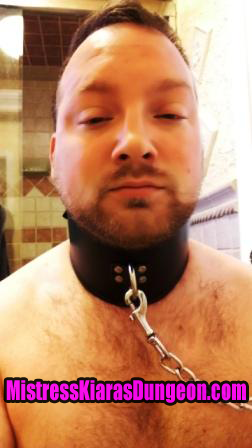 Here is another pic he sent Me, him wearing a posture collar and leash. Bet he wishes his Goddess was on the other end, holding his wallet up high and crushing his balls under My heels LOL! I love how he just hangs it up on the coat rack in the bottom picture. What a loser! xD And look at that tiny useless cock trying to stand at attention! How pathetic!
Brian has agreed to pay $50 to get each picture removed and $10 for each line of information. he has also agreed to send Me even MORE pics of him doing anything I say ;3 his goal is to work up to being My cock sucking faggot loser… I wonder how long he'll last before he caves and BEGS to suck cock for Me? My guess is not long…
Full Name: Brain Smith
Age: 33
Kinkiest fantasy: To be bound at a gangbang and used and humiliated for others
Yearly Income (approx): 24k
Total assets (checking, savings, credit cards, cash on hand): 500 maybe
Cell Phone Number: 727-487-9159
E-mail: bdsm226@gmail.com
BILLS
House Payment/Rent: 1200
Home & Cell phone bill: REMOVED FOR GIFT PURCHASE
cable bill: REMOVED FOR GIFT PURCHASE
light/heat bill (monthly): 125
extras (clothes, books, online accounts, etc):100
entertainment (movies, dinners, etc): 100
all other bills: 100
SIGNIFICANT OTHER  NA
Girlfriend/Wife emails:  X girl Friend Vikki queen300a@yahoo.com
FRIENDS AND FAMILY
Give Me the information of at least 4 friends or family members.
Name: Mothers email address
Write a letter to your parent or partner stating your nastiest fantasy and type your full name at the end:
Hello, Im Brian 33 yo been all over your page for a while. now. I have a fetish and dark desire to be sucking cock and a humiliation slut for a group of men. Need to be tricked into being there party favor. that was my hottest fantasy and need right now. I want to be pimped to random strangers for free. Just to be a object to be used and humiliated.
To be forced to add more pics and other material a never ending cycle.