With working on migrating everything to My new dedicated server on Hostgator, 2 of My sites got kind of broken :/ It sucks, but I'm working on fixing it. So since I haven't been able to update My blackmail & hypnosis websites, I've not been able to promote those two as much. However, that means that I've been getting more findom and humiliation sessions, which has been amazing!
I've gotten so many humiliation subs, and a few new findom subs too. I even did a real time session with a new sub in My area, which was absolutely wonderful! So I thought I'd take some time to tell you all about some of My favorite humiliation & findom sessions.
Humilation & Findom Blackmail Slut luis Returns (Again)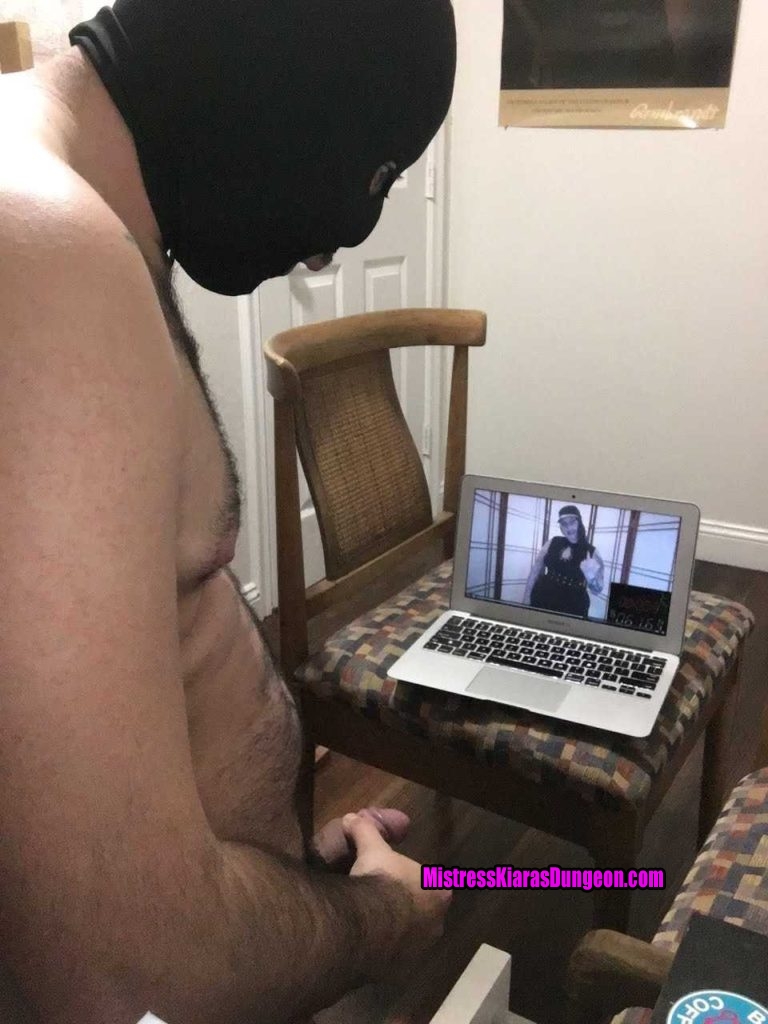 Ok, maybe I lied. I've been doing a LITTLE blackmail… There is a sub on My Niteflirt who LOVES to hear about My other blackmail and findom slaves (I know you're reading this, 'priscilla' lol!) and one of My favorite failures to parade about is luis. luis has been around since like 2015, and he still comes crawling back every once in a while. priscilla liked the stories I told about luis so much that they got luis's number (since luis is just an exposed, humiliated blackmail slave at this point) and called him. Since then, luis has been hooked again…
luis texted Me this video, just saying 'you got Me…' lol! he started off just saying that he wanted to pay to get his blackmail information and humiliating pictures removed, that he couldn't afford to become My findom slave again… but I know just exactly what buttons to push with this freak lol. he told Me he had deleted all the custom MP3s and clips that I made for him, so I of course sent them to him again. I mean, he paid for them, why shouldn't he have access to them? xD Then he sent Me this…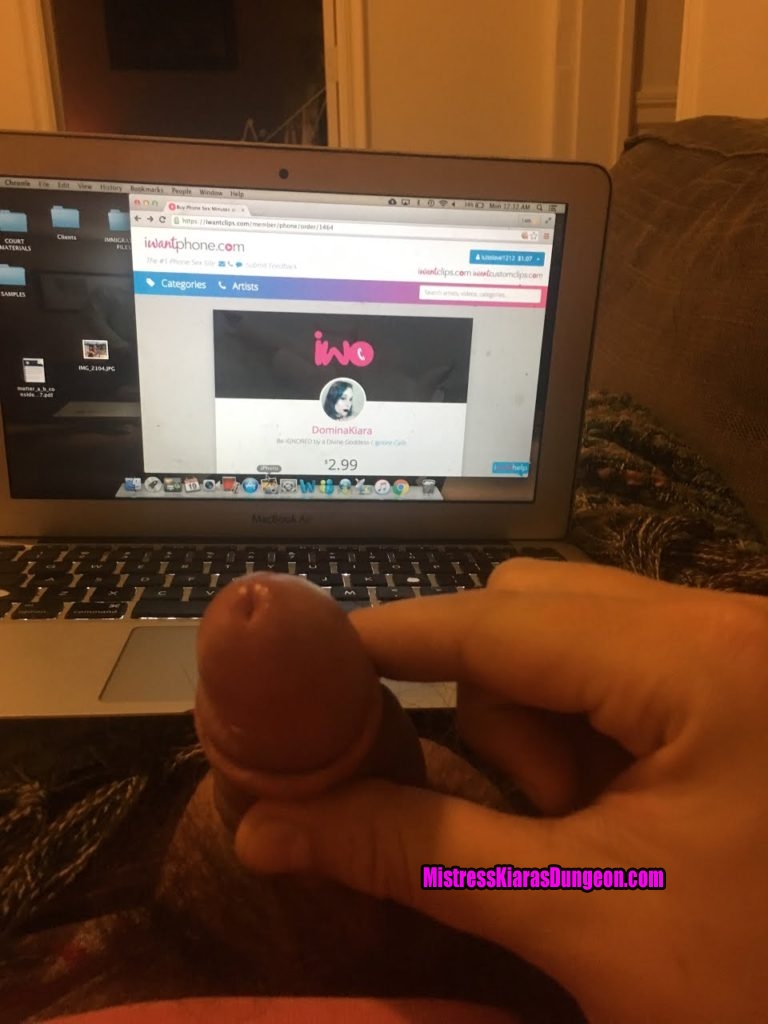 And then My phone rang xD I'm still taking care of My boyfriend and luis only ever calls My ignore line, so Boyfriend and I just sat and chatted while luis fapped in the background. How humiliating, right? he just can't stay away… So addicted fo My humiliation and being My findom slave… So pathetic… I love it!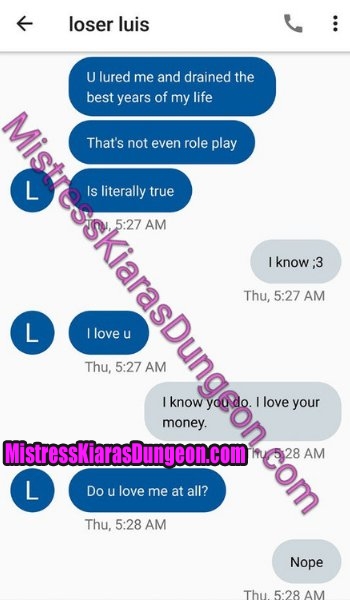 The best part is, he did it like 3 more times last week! Every time he texted Me afterward to tell Me how amazing and lucky My boyfriend was for being with Me lol… Believe Me, He knows. And in fact, he even decided to get in on the sexy fun by selling 2 pics of his dick on My niteflirt – just $50 each LOL!

Humiliation Slaves Turns to Findom Because he's Stupid…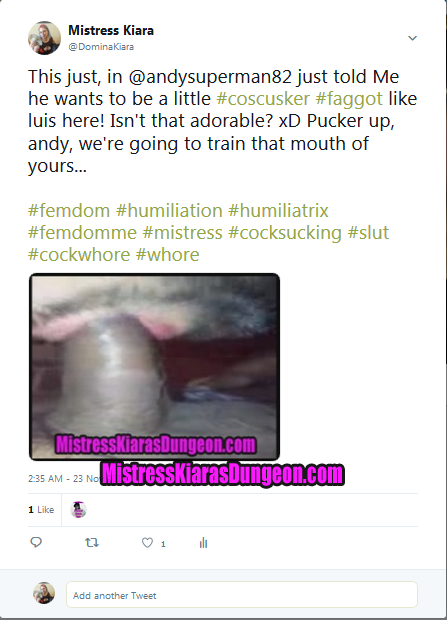 So while I tweeted all of this about luis, another sub messaged Me, telling Me how jealous he was of luis and how much he wanted to be just like him. Look, luis! you have an admirer! he longs to be just as pathetic as you are… xD And coming pretty close, to be honest!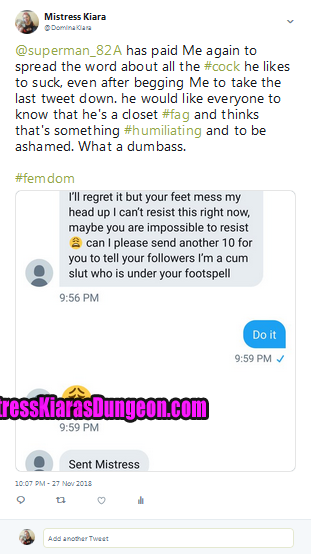 Much like luis, this freak will do ANYthing for My feet… he begs Me (and pays Me!) to humiliate him on twitter at least once a week, and he tells Me constantly how fucked he is lol. he told Me he's been watching Me and idolizing Me for the past decade but he never had the balls to message Me. he didn't want to get addicted…. lol too late…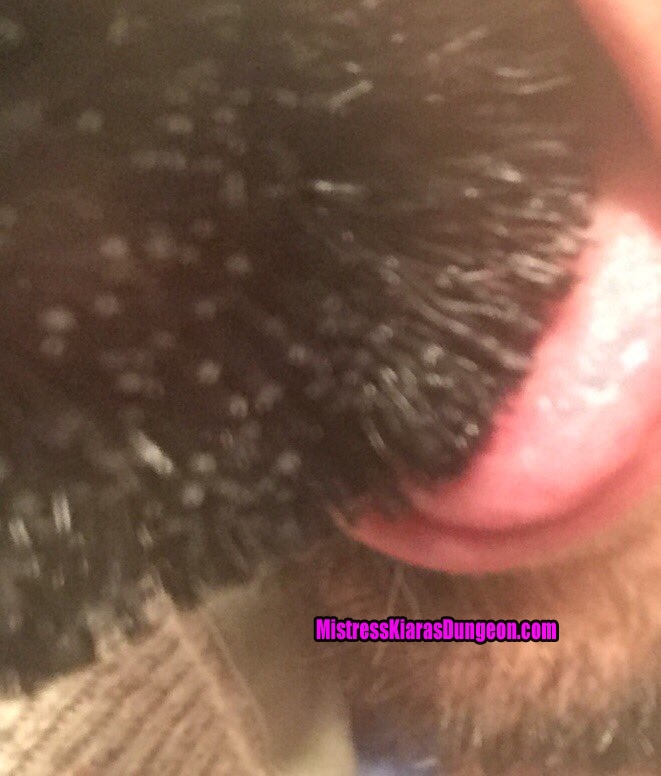 This is a picture he sent Me of him and his new girlfriend, 'briana.' briana is his toilet brush, who he made out with for the amusement of My feet… Which he keeps saying he's not addicted to but I think the evidence is pretty plain. His craving for more humiliation is growing by the day. he even bought a text session from Me this week…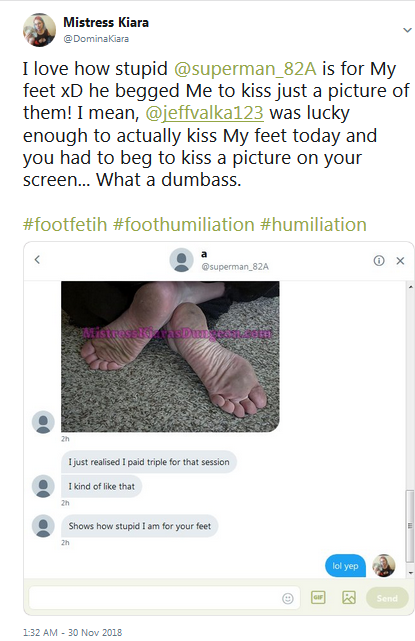 Which he overpaid for because he's an idiot lol. Of course, he said he liked it… For the humiliation aspect, sure, but all My findom slaves know that that's where it starts… you start to associate paying with the pleasure that serving Me brings. Then you start to associate paying with pleasure in general… Then it's all over… lol… Of course there are other reasons why My findom subs pay, which I explain in this clip, Why you Pay Me:
Cum Eating Humiliation slave
Another amazing session I had this week was a double teaming session with Me and Domina Mint! This boy has played with Me before, but it was a first for Mint. he loves to do forced cum eating humiliation tasks, and I do mean FORCED! he tries so hard to weasel out of it but he knows it's no use with Us… And he even thanks Us after the fact because apparently a lot of Dommes will let him get out of it! Can you imagine? A Domme letting a sub weasel out of a task? Ludicrous!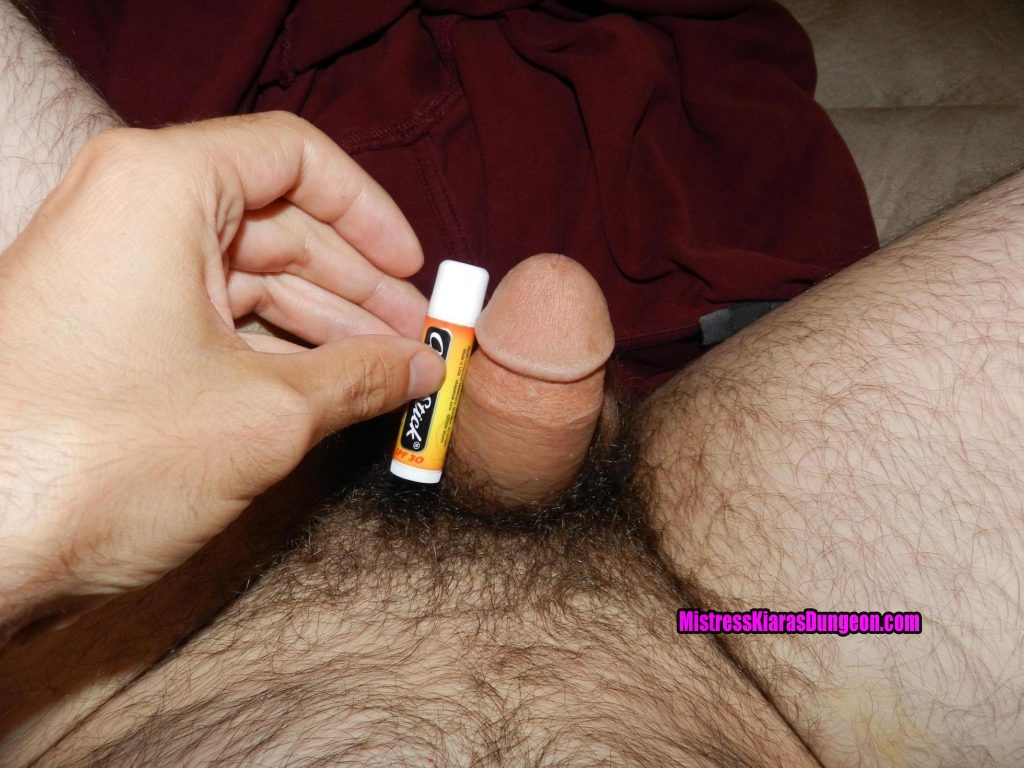 Here is his tiny dick comparison picture lol. he paid Me to post it on Rate My Tiny Penis before, so of course I kept a copy for My own amusement. This time around, Domina Mint and I put him through the ringer in the humiliation department! His assignment was many fold, but I won't ruin it here (like We did his orgasm LOL)! We had so much fun that I made 2 assignments based off of this session so that you can play along at home ;3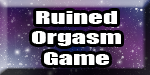 And of course he came back for more later that week for more humiliation and punishment… This time he got to choose his fate so to speak, and there was a bit of a findom twist to it. I gave him 4 choices for his assignment. The more tame the humiliation, the less his tribute was LOL! he chose the $40 option – what would you have chosen?
Real Time Session With a New sub!
Domina Mint and I also got pedicures this week. Aren't they wonderful? We have a session with doughboy on the 5th, but I wanted Mine early because I also had a first session with a new sub on the 29th! he wasn't really into humiliation or findom, but we did have a TON of fun! I dressed him up like a doggy, enjoyed some pet play, had him worship My feet and sexy boots, and then gave him a sissy makeover. Isn't he just precious?
I recorded the first half, including when his phone went off an he had to be punished with some spankings! I'll have a clip available soon, I've got quite the backlog to work through. But for now, here is a clip I released this week of doughboy and I, as well as another progressive findom clip for My little foot piggy!
| | |
| --- | --- |
| Gay Pride Beatdown, Sissification, Boot Worhsip, Force Strapon Sucking, & Wallet Draining Findom Humiliation |   |
| You're Going to JAIL to Worship Convict Feet & Dicks! Another Foot Humiliation & Progressive Findom Clip for My Little Foot Piggy! |   |