Summer is finally here and I am having a blast! What have you been up to so far? your findom Mistress and femdom Queen has been doing a lot of back-end work, but here's some stuff that actually might affect you!
New Editing Software

So first off, I finally got My package!!! I ditched Adobe and got a copy of DaVinci Resolve for video editing, and UPS finally found the package and delivered it last month. It's far better in pretty much every way so far. There's been a bit of a learning curve, but so far I am super impressed! Plus, check out this awesome editing keyboard that came with the software! I am in love! And it only cost $300 or so, so My subs can feel free to reimburse since your findom Mistress makes all this content for you anyway 😛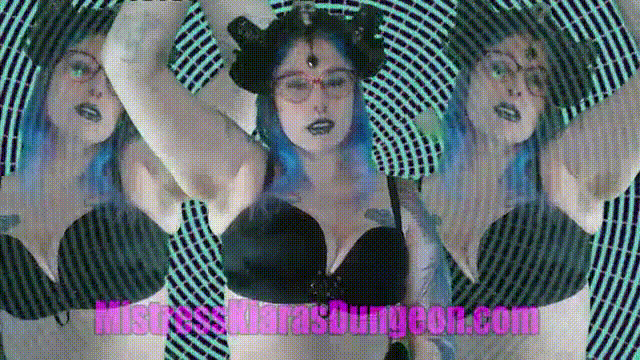 Last month, your Hypnodomme Mistress posted about how I was struggling with getting customs done. Well, I've got one delivered so far, thanks to the new clip editing software, and it's available for you to purchase as well! It's been out less than a week and it's already headed toward being a top seller! It's 29 minutes long, so make sure that you have the time and mental bandwidth to sit and really let this one take over.
Are you prepared to have a trigger embedded by your hypnodomme so deeply in your subconscious that you have no choice but to jerk off for Me every time you see the end card in any of My clips? The subliminal messages in this clip will make it so that you feel an insatiable need to stroke for Me any time you see that beautiful picture of Me… Do you think you can resist the binaural beats, entrancing tones, spirals, and special effects of this clip? Buy it now and find out!
I still have 3 customs that need to be finished. Two are voice only and will be pretty easy as long as I can coordinate with the other people I'm recording with, but the third is another custom curse. I'm sure most of you know that, like hypnodomme content, femdom witchcraft takes time. I will be releasing a little bit of new content between now and the time that I finish the customs, but it's all pre-recorded or voice only (possibly with some special effects) so look forward to that this month!
Hypnodomme Content Issues
Speaking of more hypnosis content, the sites are changing up their rules again, which is making it harder and harder for hypnodommes to share Our craft. The bottom line is, there are certain things that Mastercard considers "non-consensual acts," and hypnosis is one of them. Therefore, I will be changing the wording in a few of My clips in order to allow them to be sold on certain clip sites. There will be less uses of the actual word 'hypnosis,' and some clips may not be available on some platforms. Sorry for the inconvenience, but there's really nothing I can do about it. you can always email Me at dominakiara@gmail.com and buy clips directly from Me that way, which I honestly prefer since that way I get 100% of the money you send instead of 60%-70% that I receive when selling My femdom and findom Mistress content on other platforms.
Speaking of My sexy hypnodomme content, I am still working closely with Descent Hypnosis! The owner is a great guy and he's made this great visual effects video to go along with My Relaxation Hypnosis clip! Make sure you listen to it and give it a thumbs up! And if you want to listen to the other lovely hypnodommes, check out the other videos that Descent has uploaded, or visit their website directly. Everyone there has been great and super supportive, so I highly recommend them. Don't miss out, go listen now!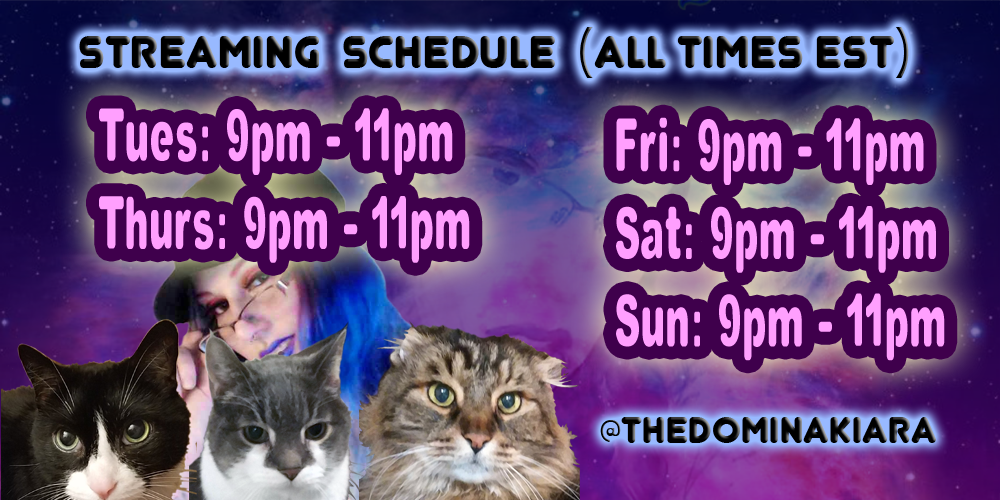 I announced last month that I became an official Twitch Affiliate, and I'm still loving making money while just hanging out and playing video games on cam with My cats LOL! It's so much fun and it's a great way to connect with My subs on a more personal level. We get so caught up in the D/s side of things sometimes that we tend to forget that there's an actual human on the other side of the computer.

I'm still offering gaming together, but now those who can't/don't play can watch Me game too. Be sure to subscribe and use 'bits' to do random things – that's how I get paid! Those with Amazon Prime can subscribe for free every month   You can also just watch and hang out in chat, suggest games for Me to play, etc. I've already given away a few games on stream as well, and will continue to host game giveaways when we reach bits milestones, so subscribe and never miss a stream!
Also, I am still offering femdom & fetish sessions during My scheduled hours, even if I'm streaming on Twitch! I will just pause the stream, do the session, and then go back to streaming. Simple But no sexy talk in chat~! I have already had to ban a few subs who think that Twitch, a vanilla site that has a lot of kids on it, is an acceptable place to discuss fetishes. It's not. Don't do it.
I'm still continuing to move all of My too-sexy-for-Twitter content to LoyalFans, a platform that has had no problems adhering to the new adult content guidelines. I've been focusing lately on releasing clips there for free, and I'm running a permanent sale of 'first 3 days free for new subscribers' just because I know that once you subscribe you won't be able to resist seeing more of My sexy fetish content! Don't miss out on all the hot pictures and videos that I'm posting there every day,

go subscribe

!
Just wanted to remind you that I have a new twitter  –

@TheDominaKiara

so go be sure to follow Me now and get all of My safe for work femdom & fetish updates – like this one!
https://twitter.com/TheDominaKiara/status/1534331795801620482?s=20&t=hSRZMUZJPTJIjzXHSDYqQA

Another of My favorite fetishes of course is small penis humiliation. That's why I made rate my tiny penis; a free website dedicated completely to tiny pindicks showing off their short comings for Me and My Domme friends to laugh at lol! your Mistress is currently updating our servers to make things even more fast when it comes to rating pindicks like yours! We average between 200-600 views every single day from other tiny dick boys and the Mistresses like Myself who love to laugh at them. Want to feature your little dick for free small penis humiliation? Check out the site and get your pinidck posted LOL!
Want 10% off on My clips?
Join My mailing list! Every month, subscribers get a new coupon code for 10% off on purchases in My IWantClips store! You'll also get free exclusive content & additional coupons. It's free, so what do you have to lose? Subscribe now!

New Clips & Pics
That's it for now, pets. I also updated My gallery this month with all My hot new free femdom pictures for you to worship! But remember to pay your cum tax if you make a little mess… LOL! I have also added an audio-only (with a bit of special effects, of course) hypnodomme clip that is a recording of one of My hypnosis phone call sessions. Enjoy~!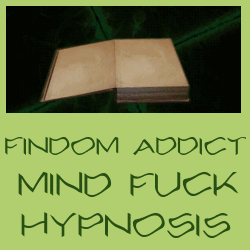 Meet Travis, one of My newest findom junkies. But he didn't start out that way… In fact, findom wasn't one of his limits when we first started talking, but it was something that he said didn't turn him on at all. So of course I had to change that… Travis agreed to let Me record our private phone session and share it with everyone to show just how powerful My mindfucking trance techniques are. But watch out – you might be caught in My mesmerizing web just like he was in this nearly 17 min clip…
Find Me Here: All My Links
Amazon wish list: http://www.amazon.com/wishlist/3C5E4AZCW0649
Follow me on Twitter: @TheDominaKiara
email: dominakiara@gmail.com
Follow your femdom Mistress and share My content: